HIGH PERFORMANCE SEWING PLANT
SEWSY 4.0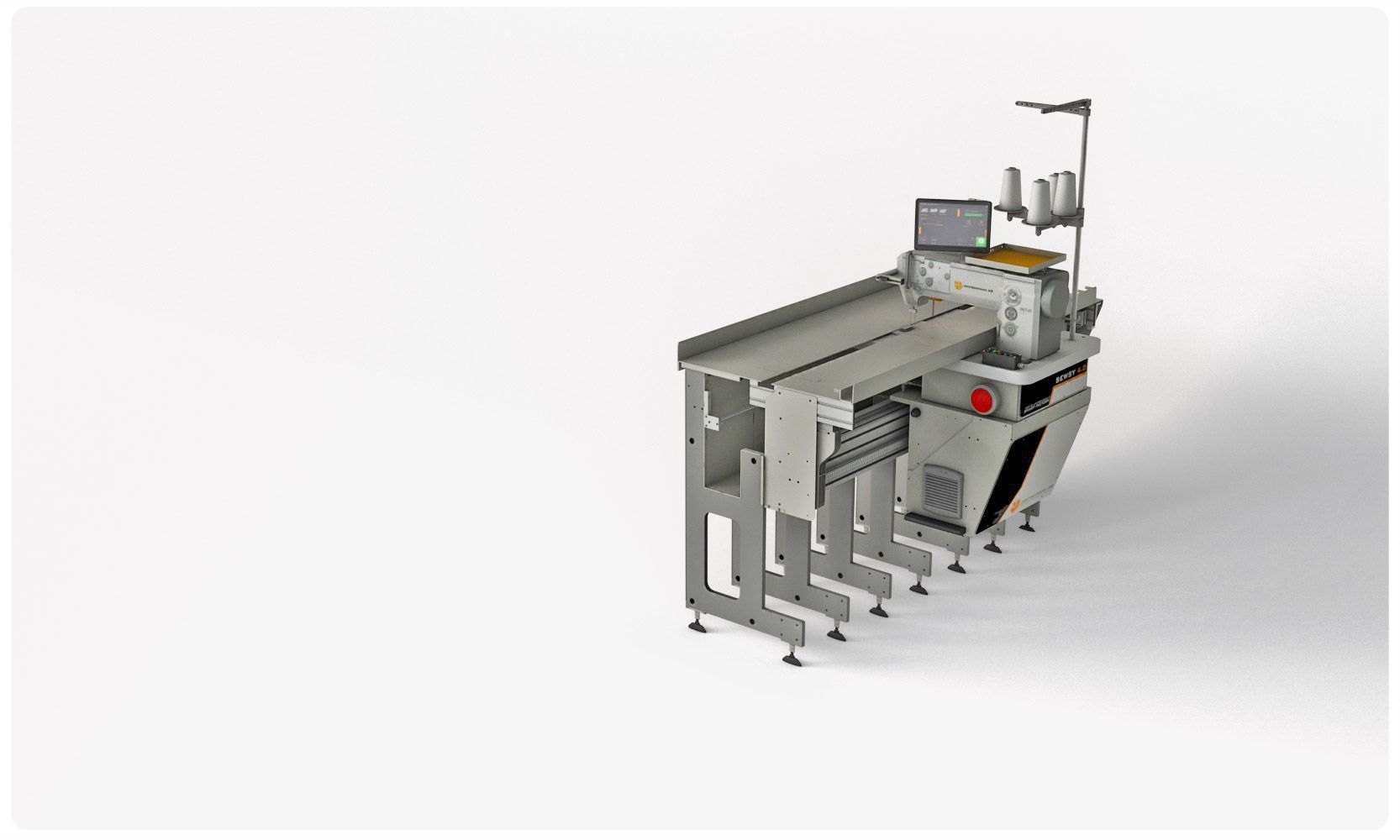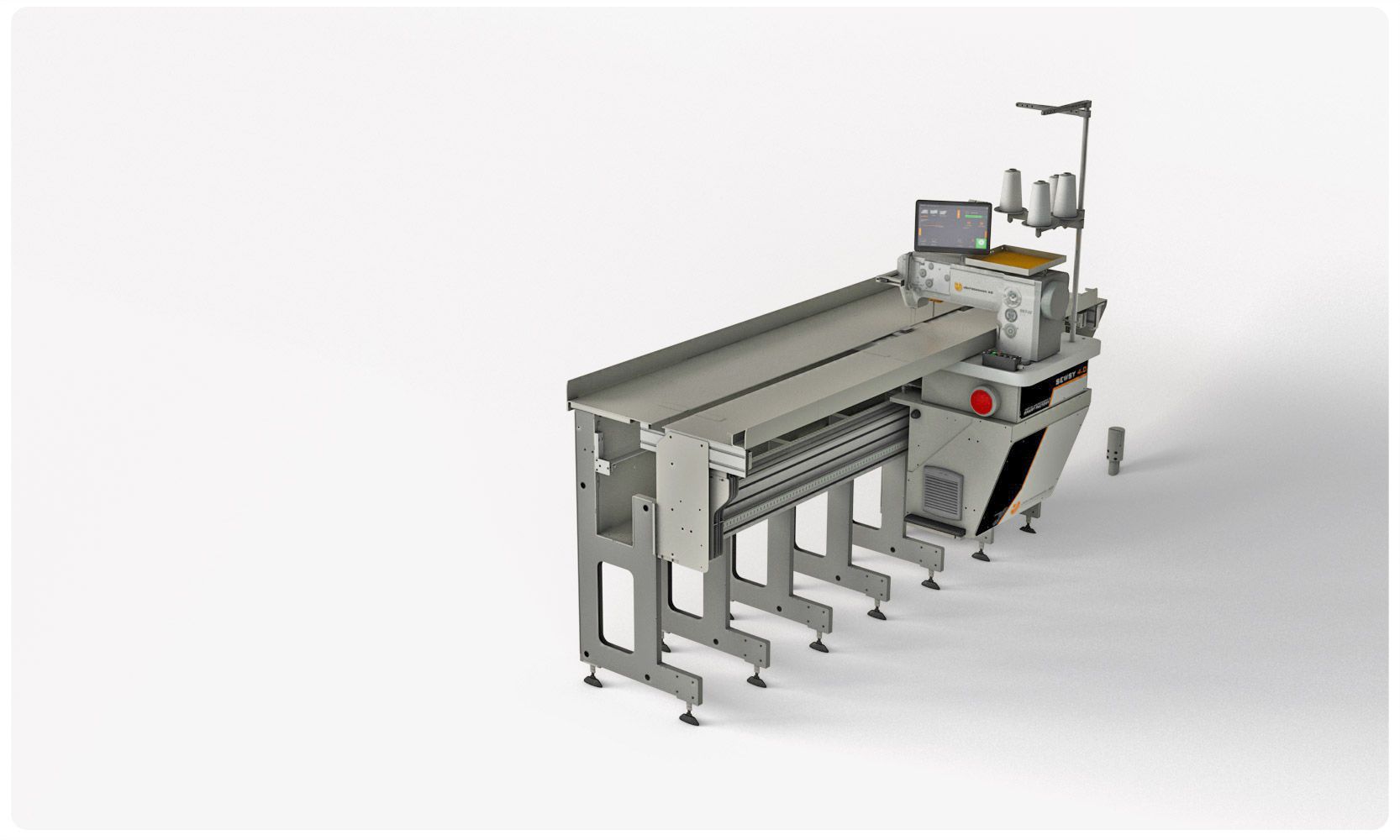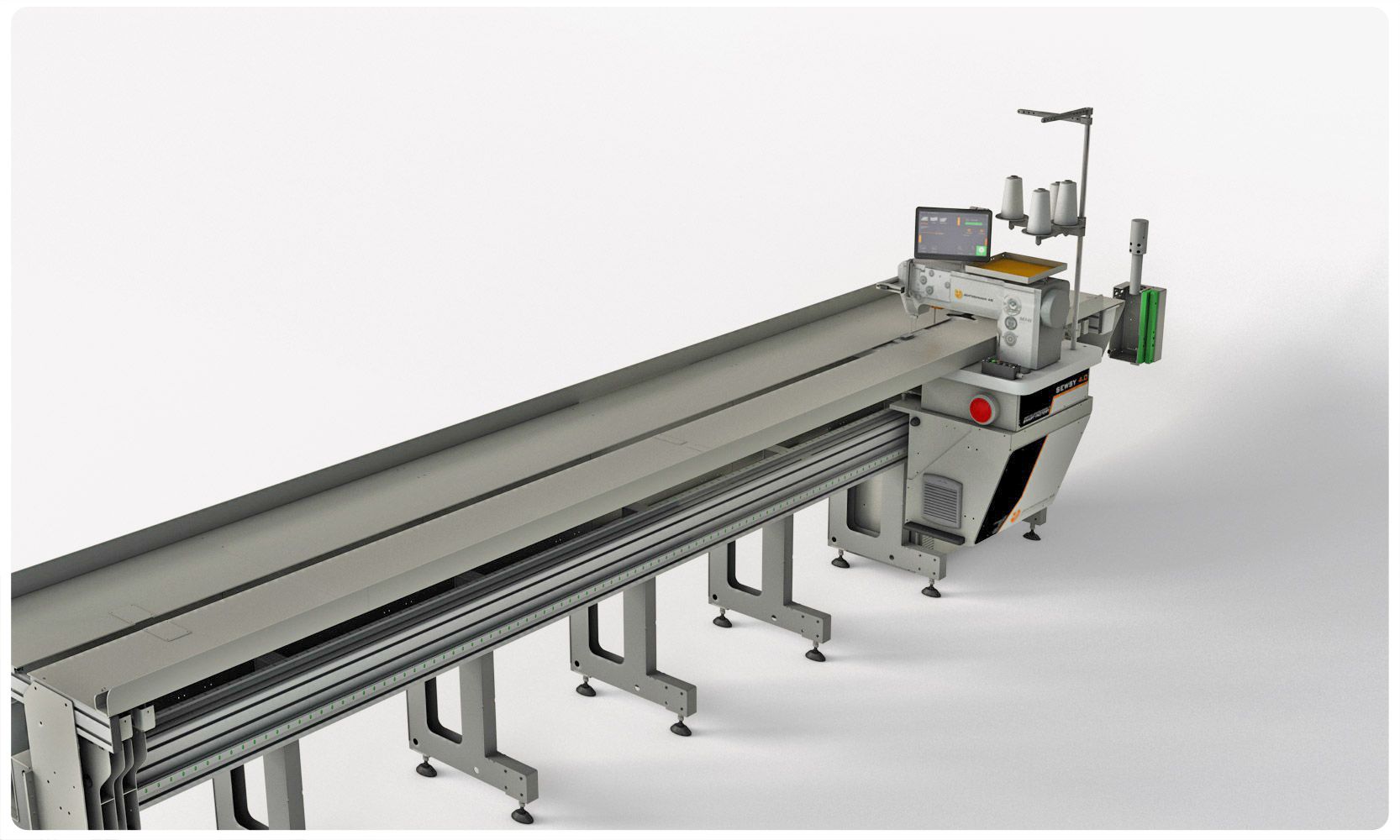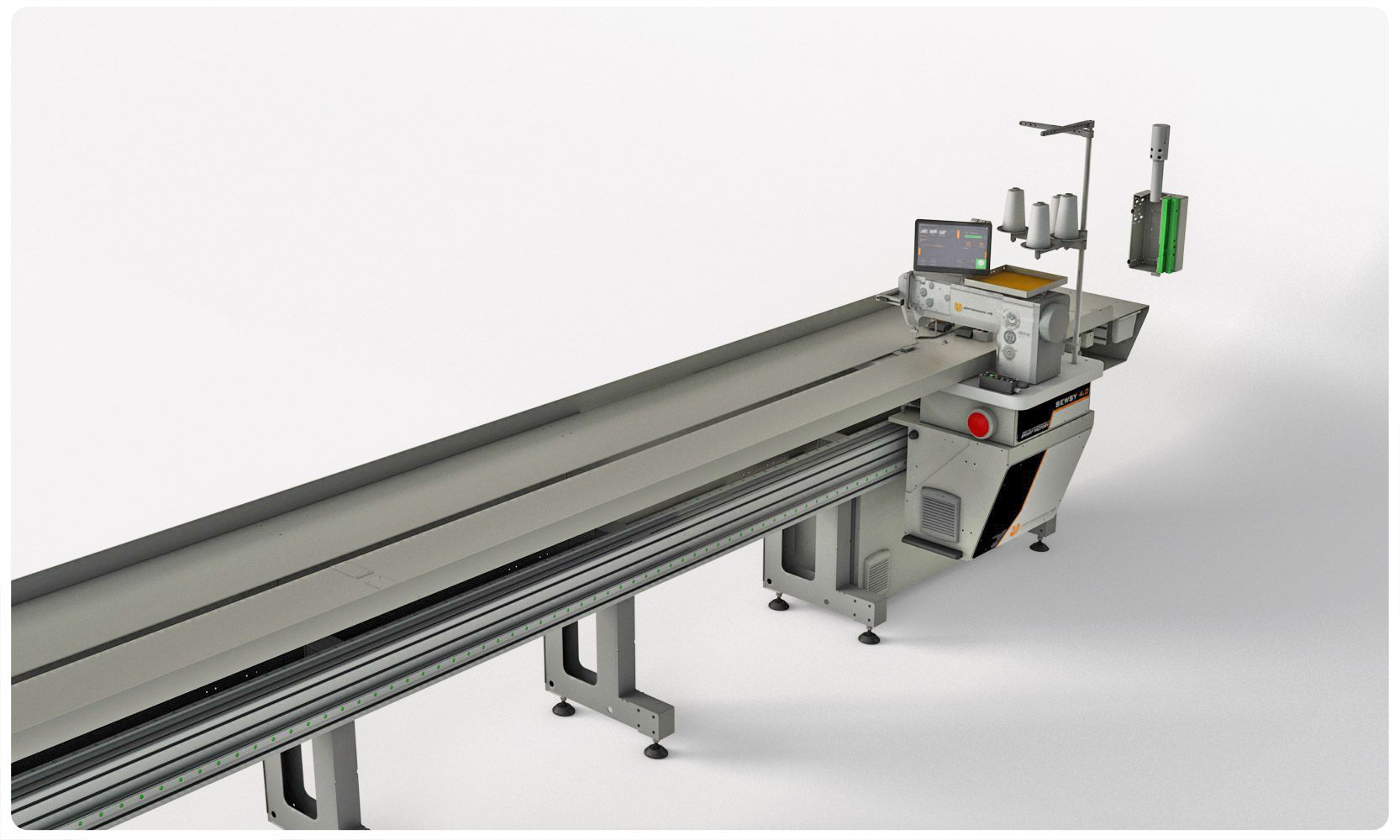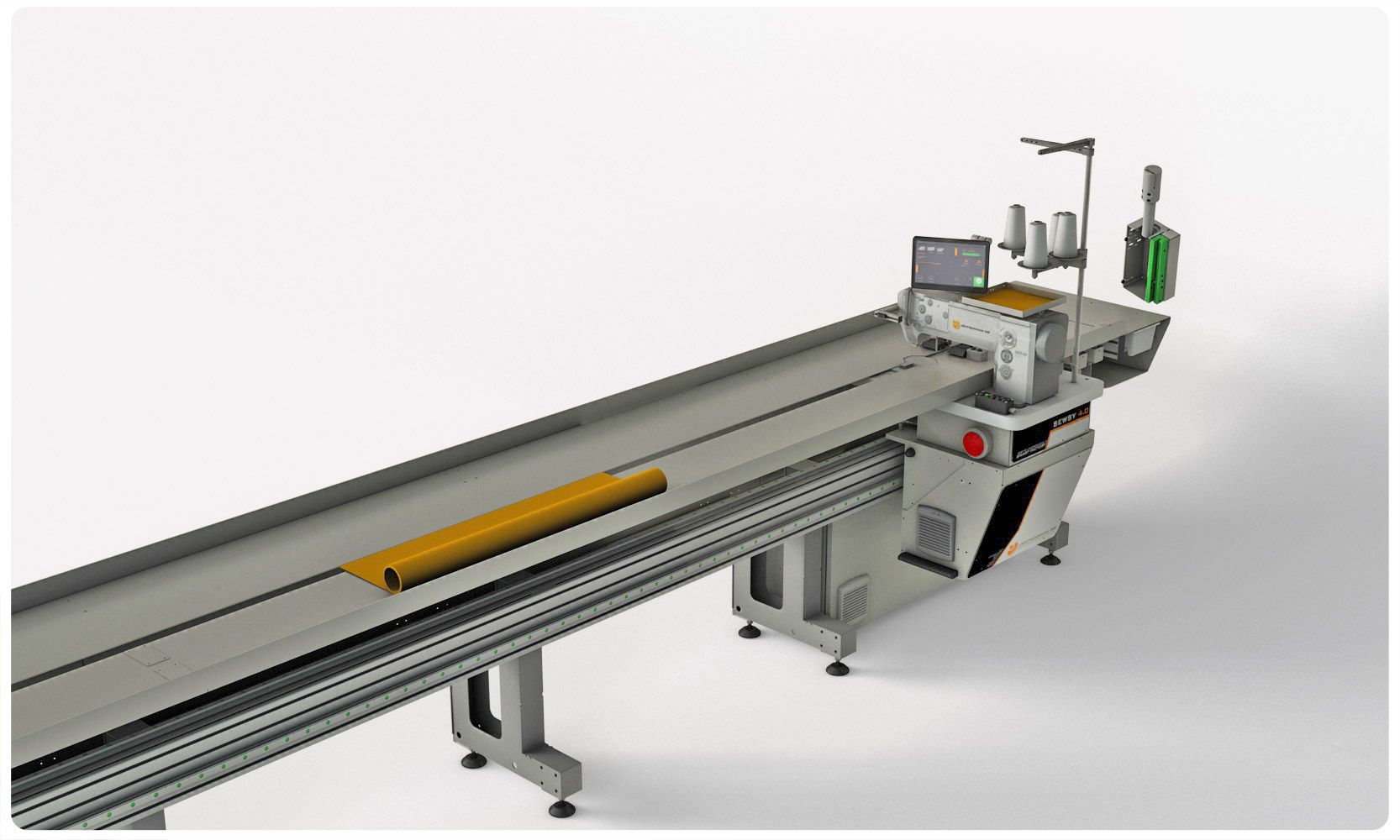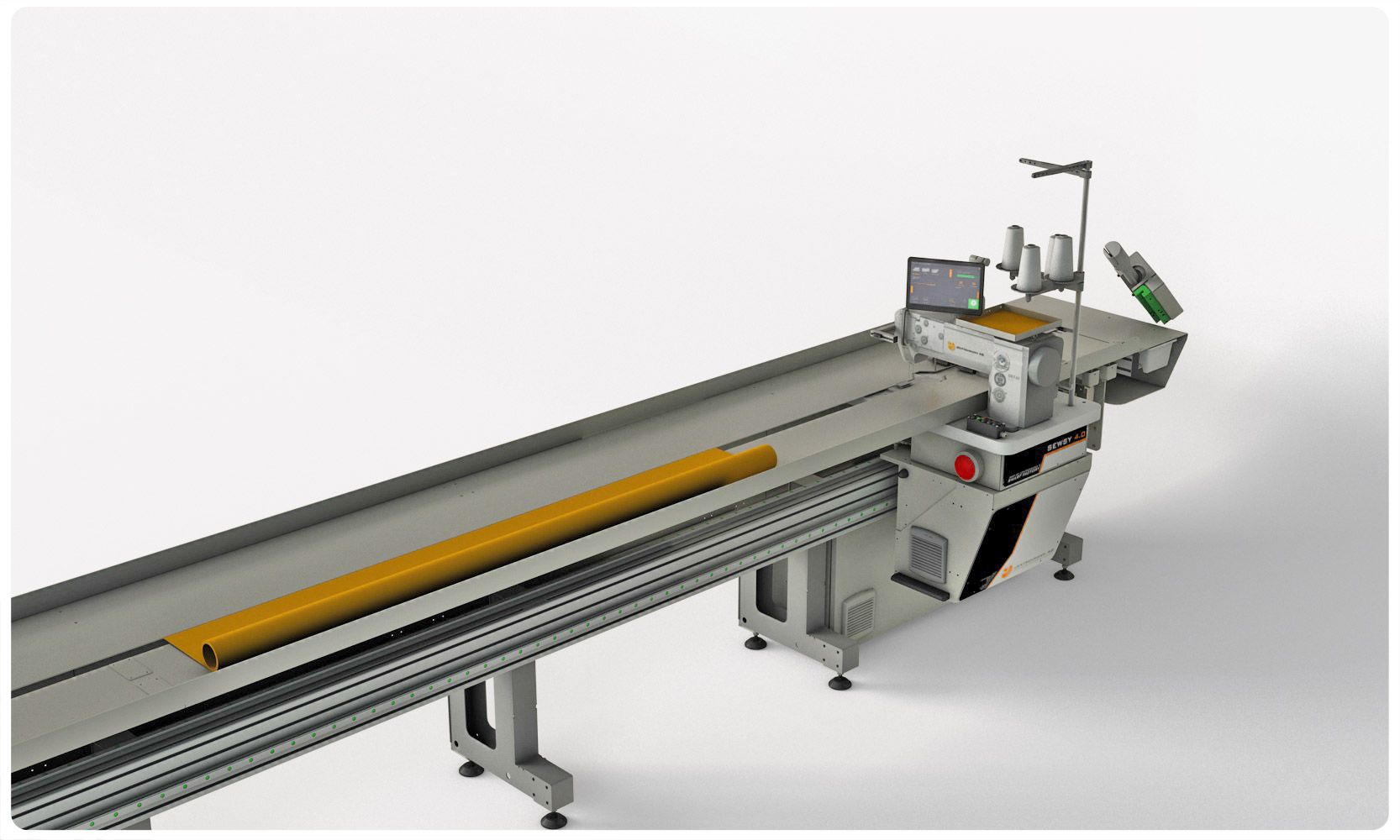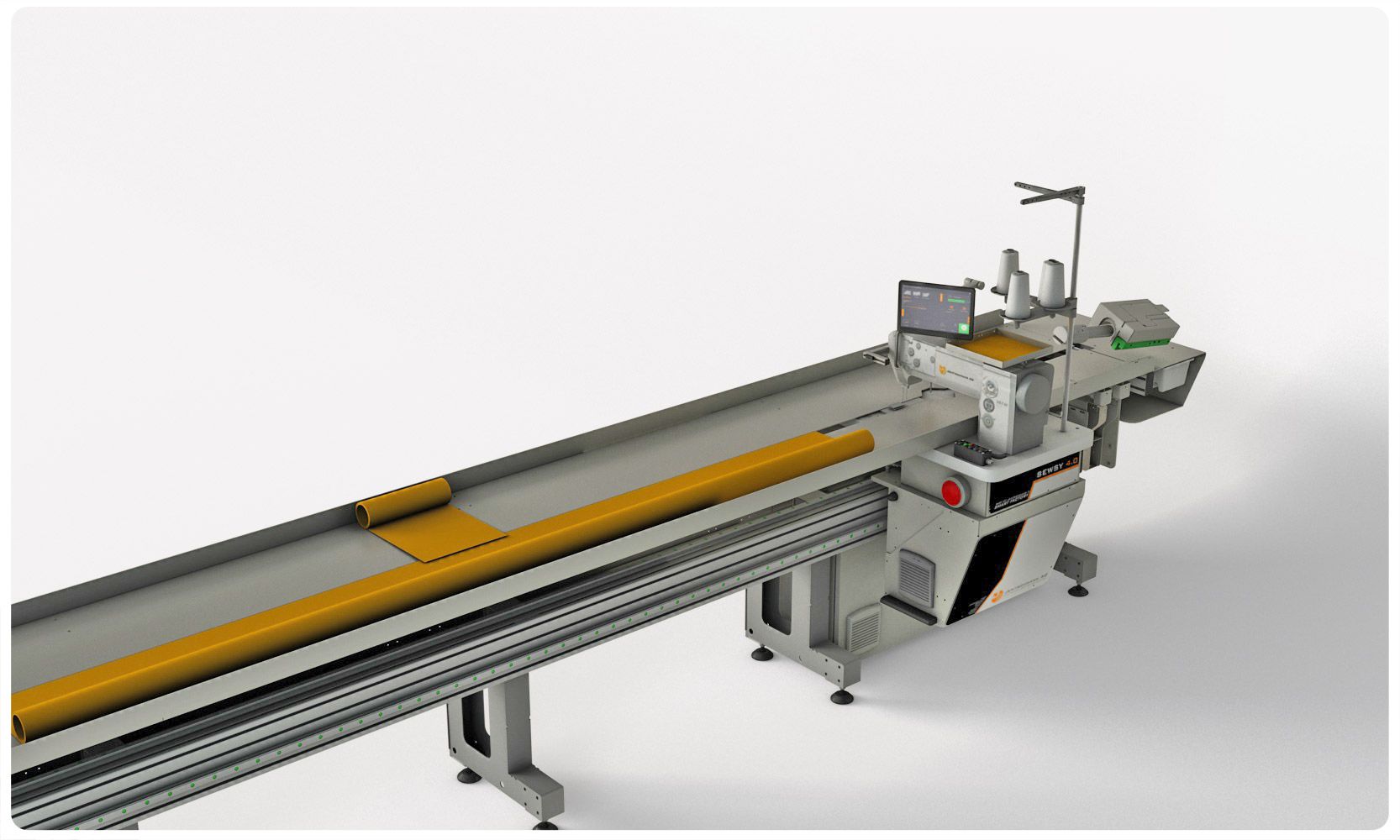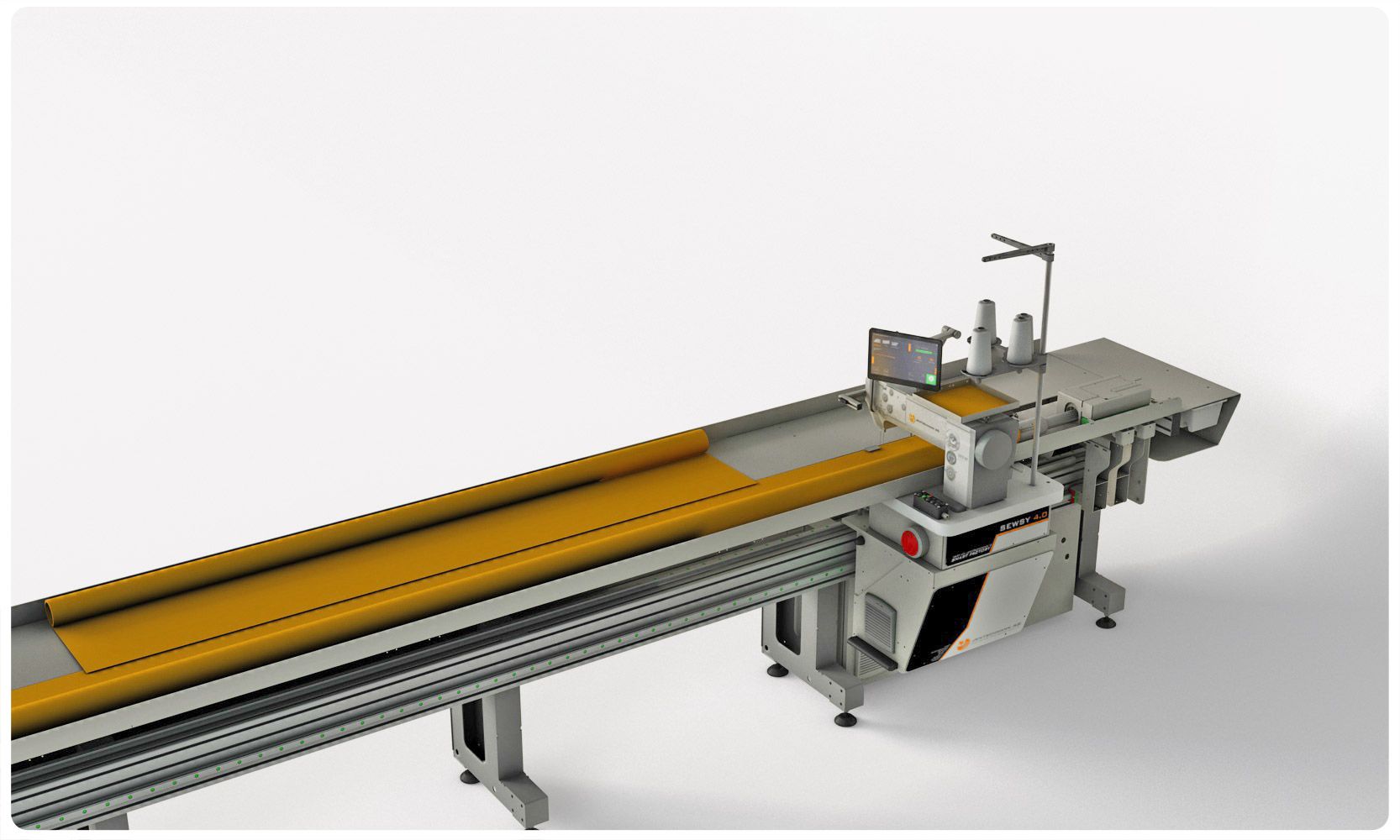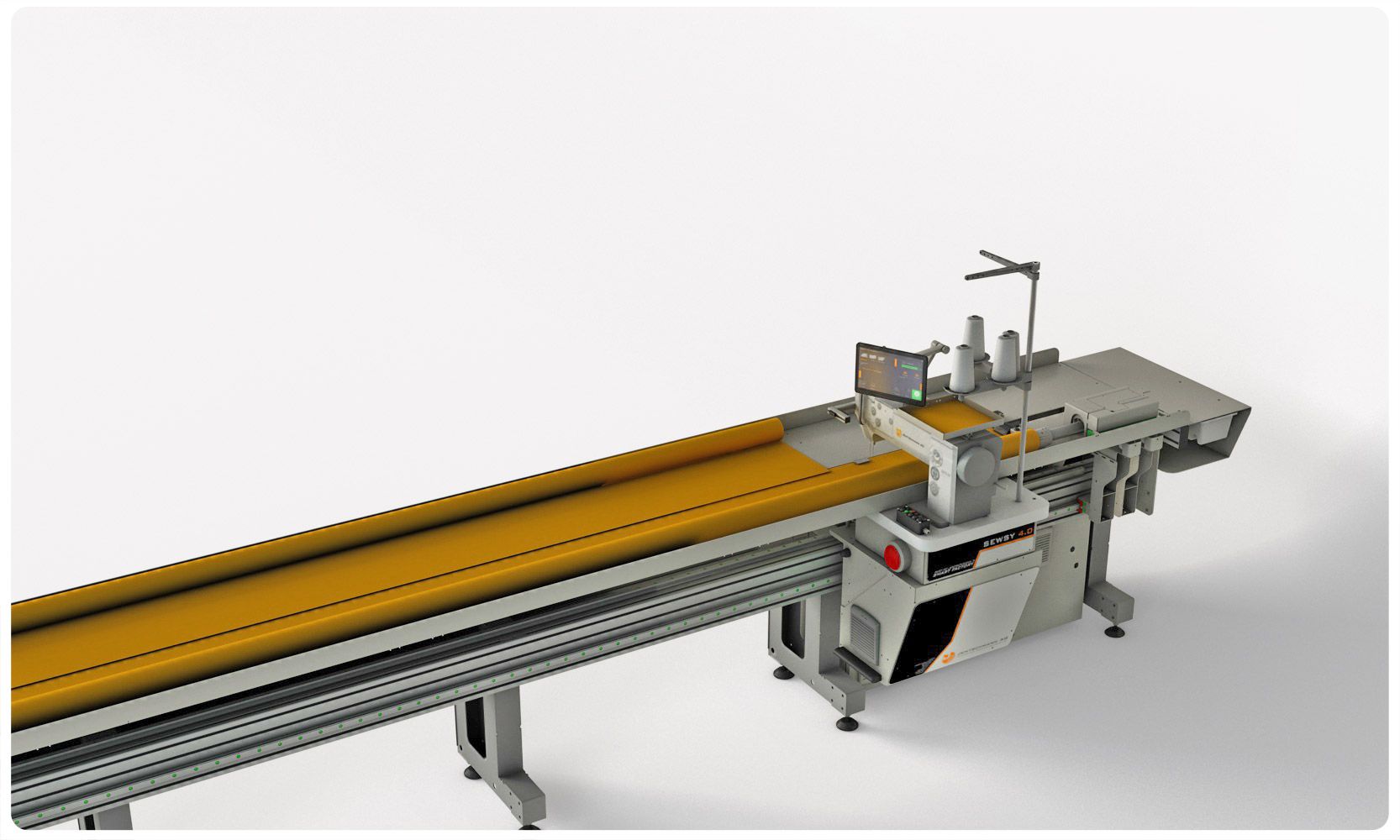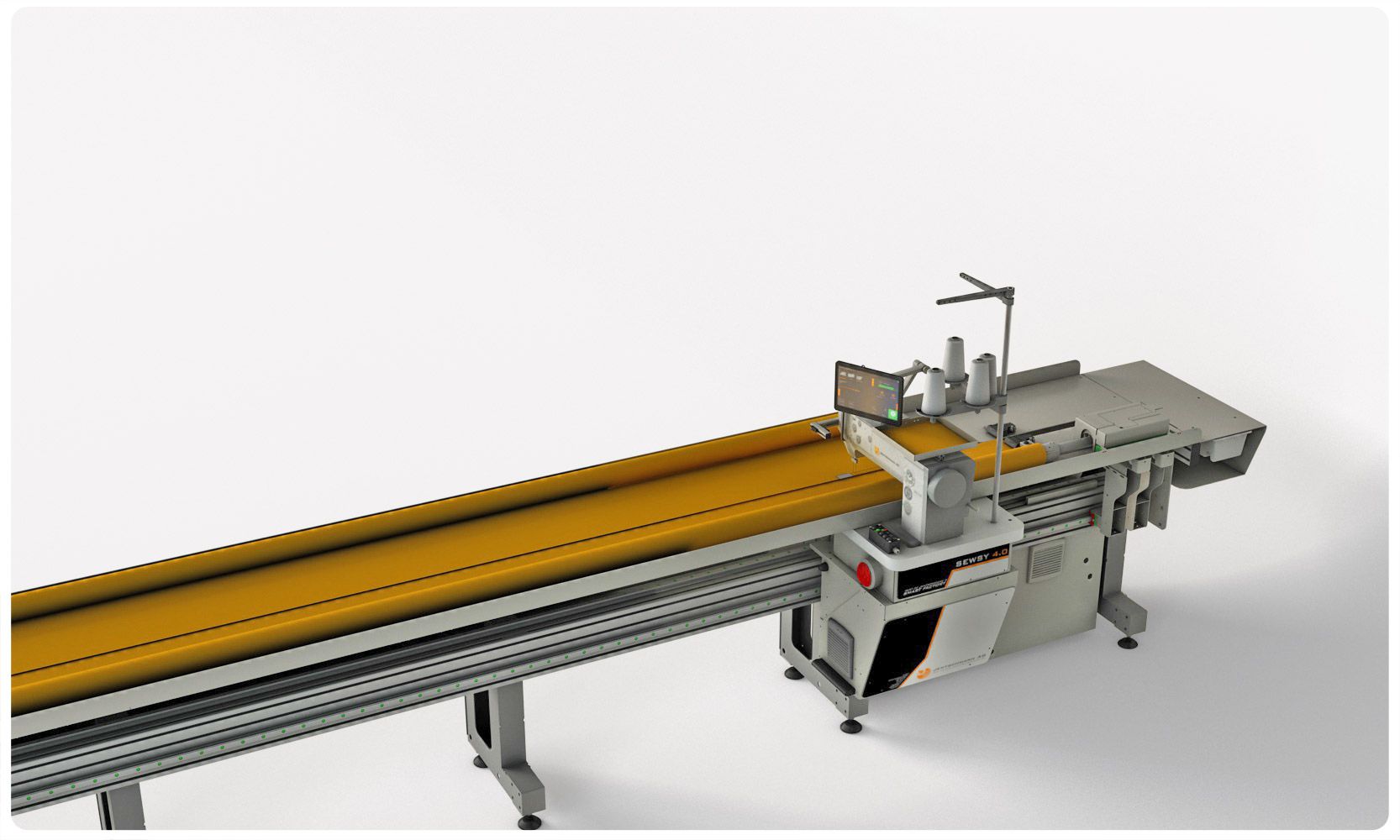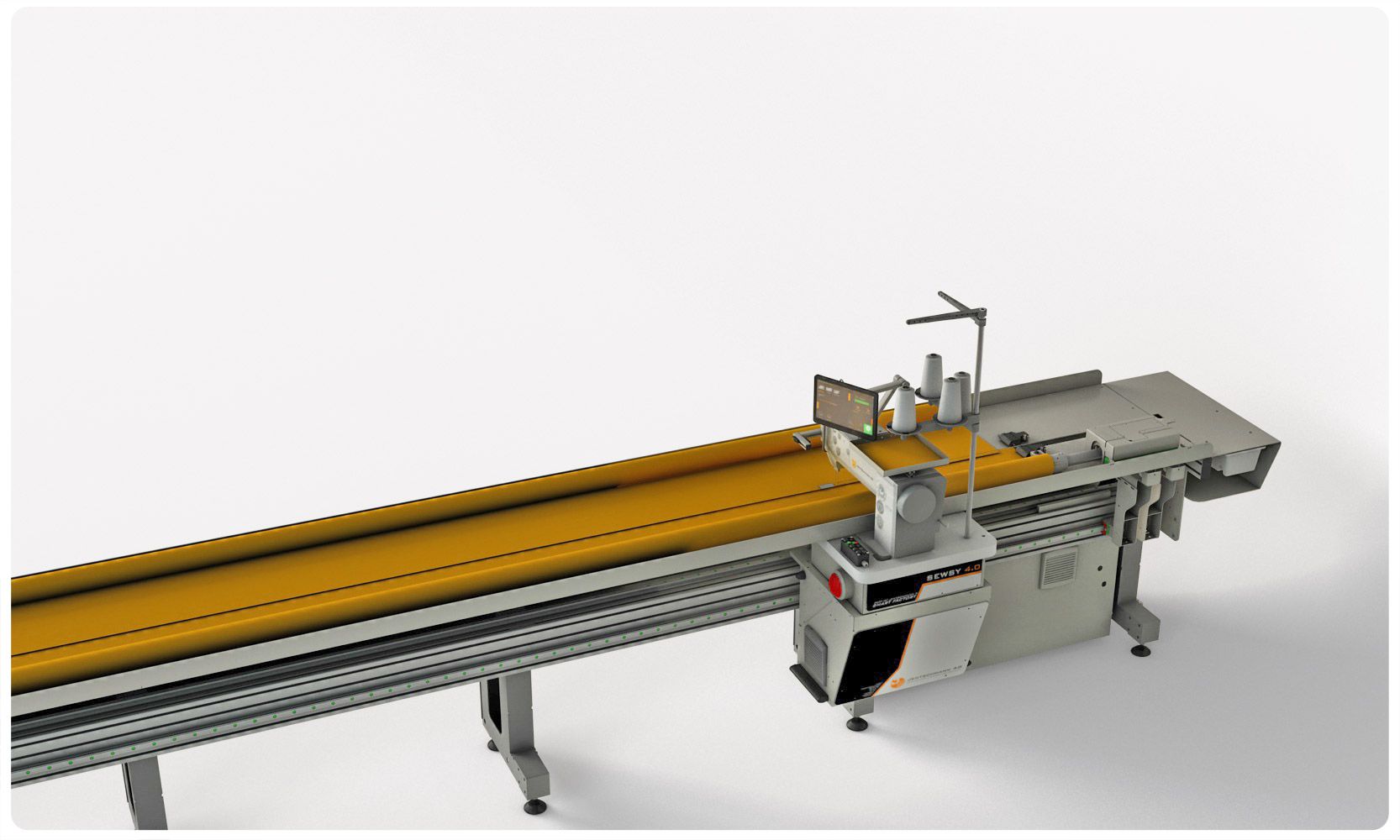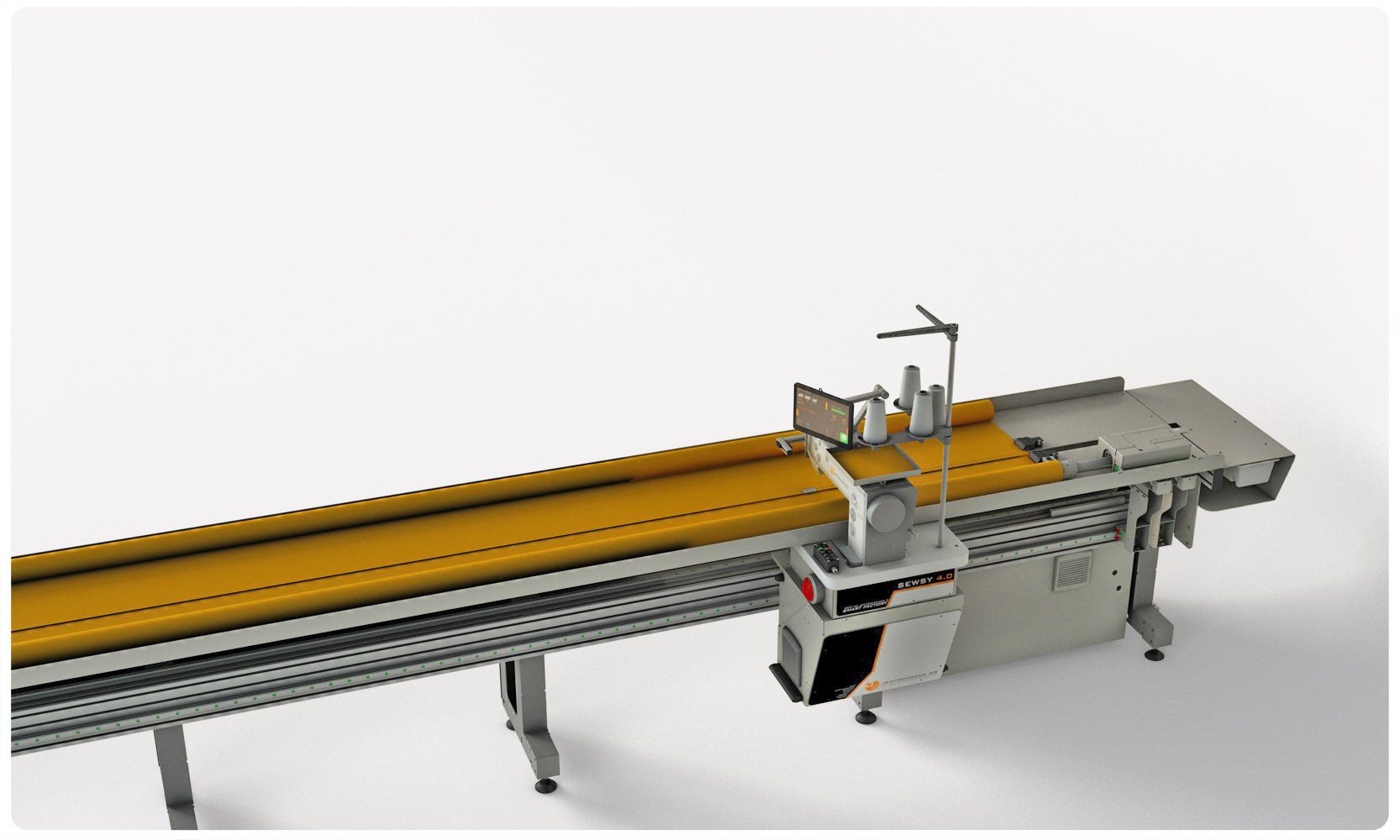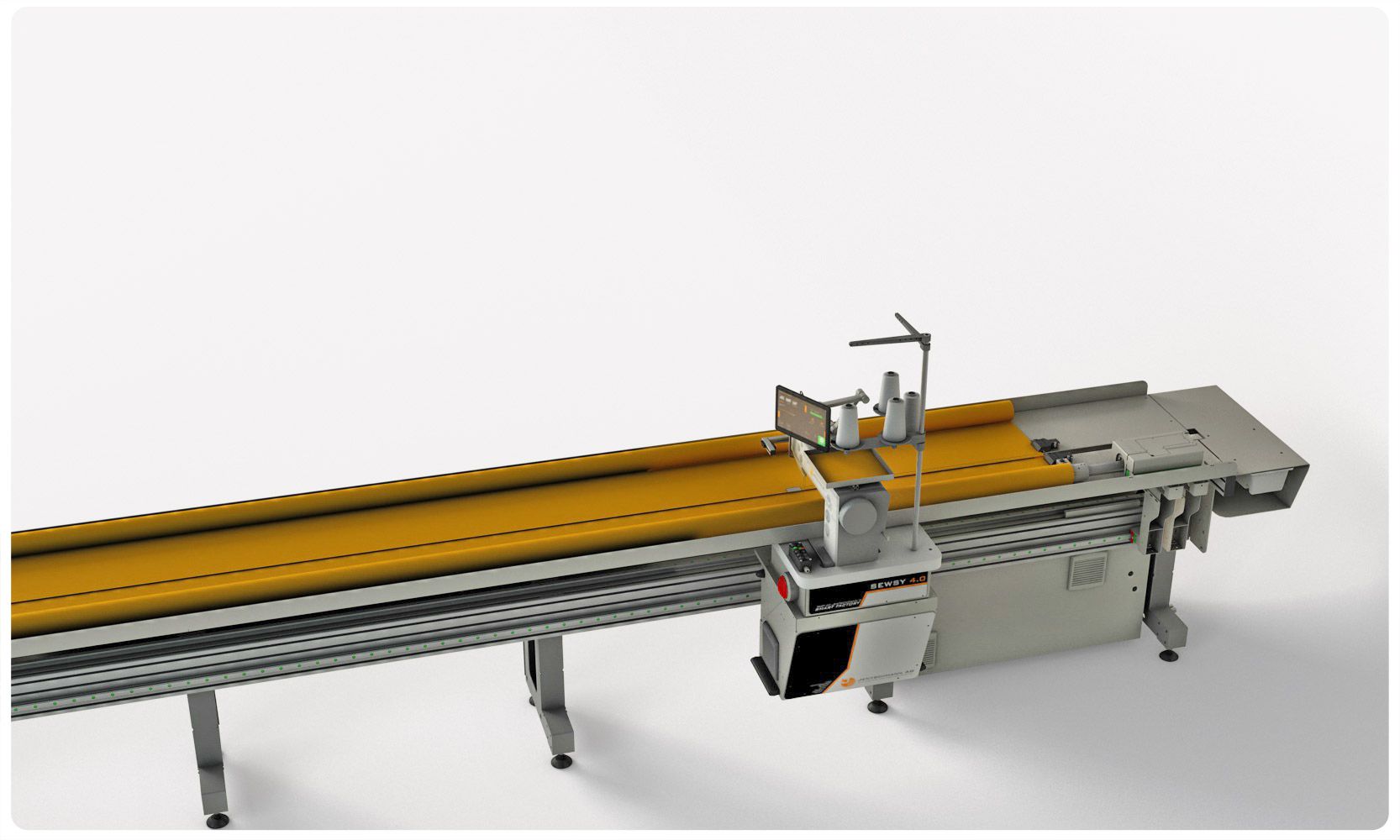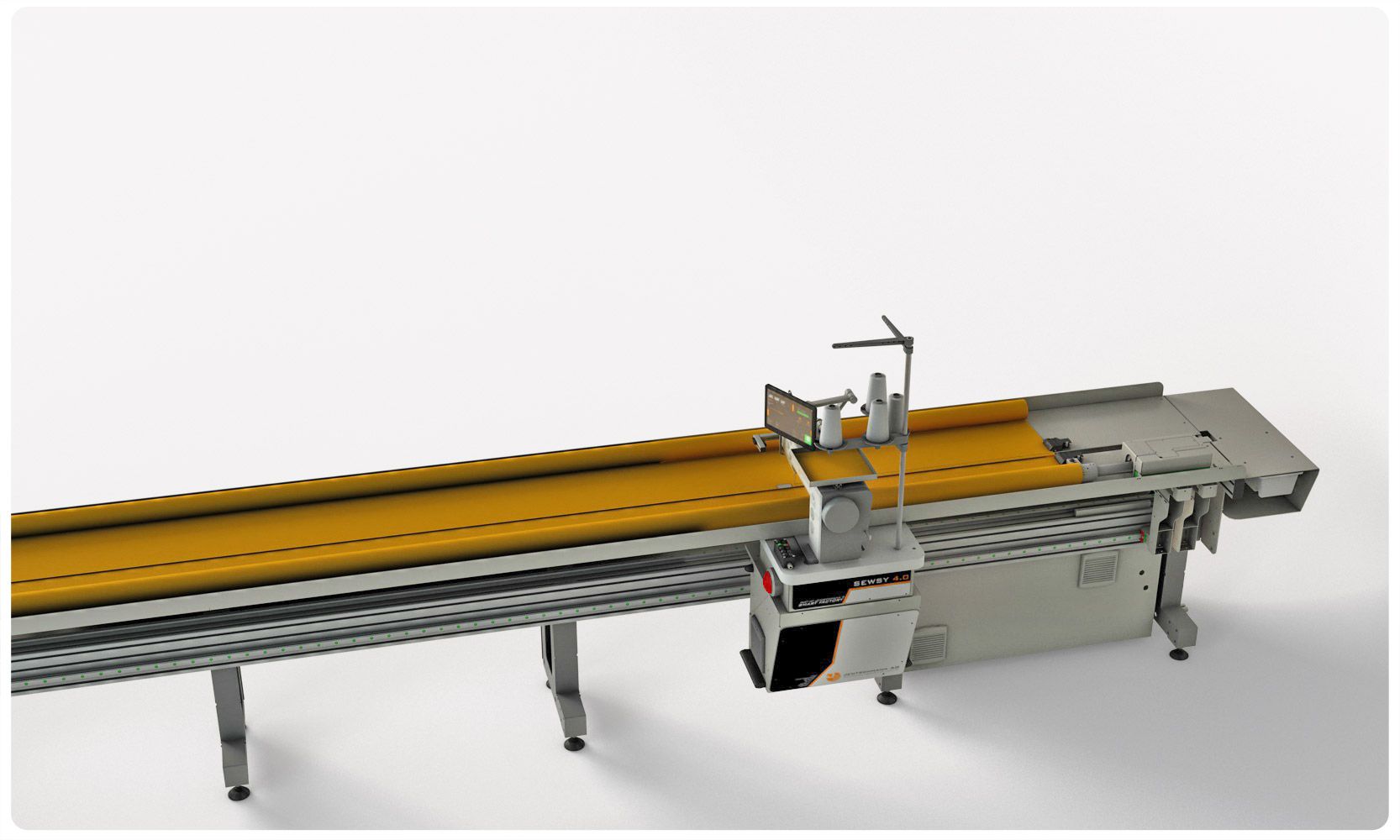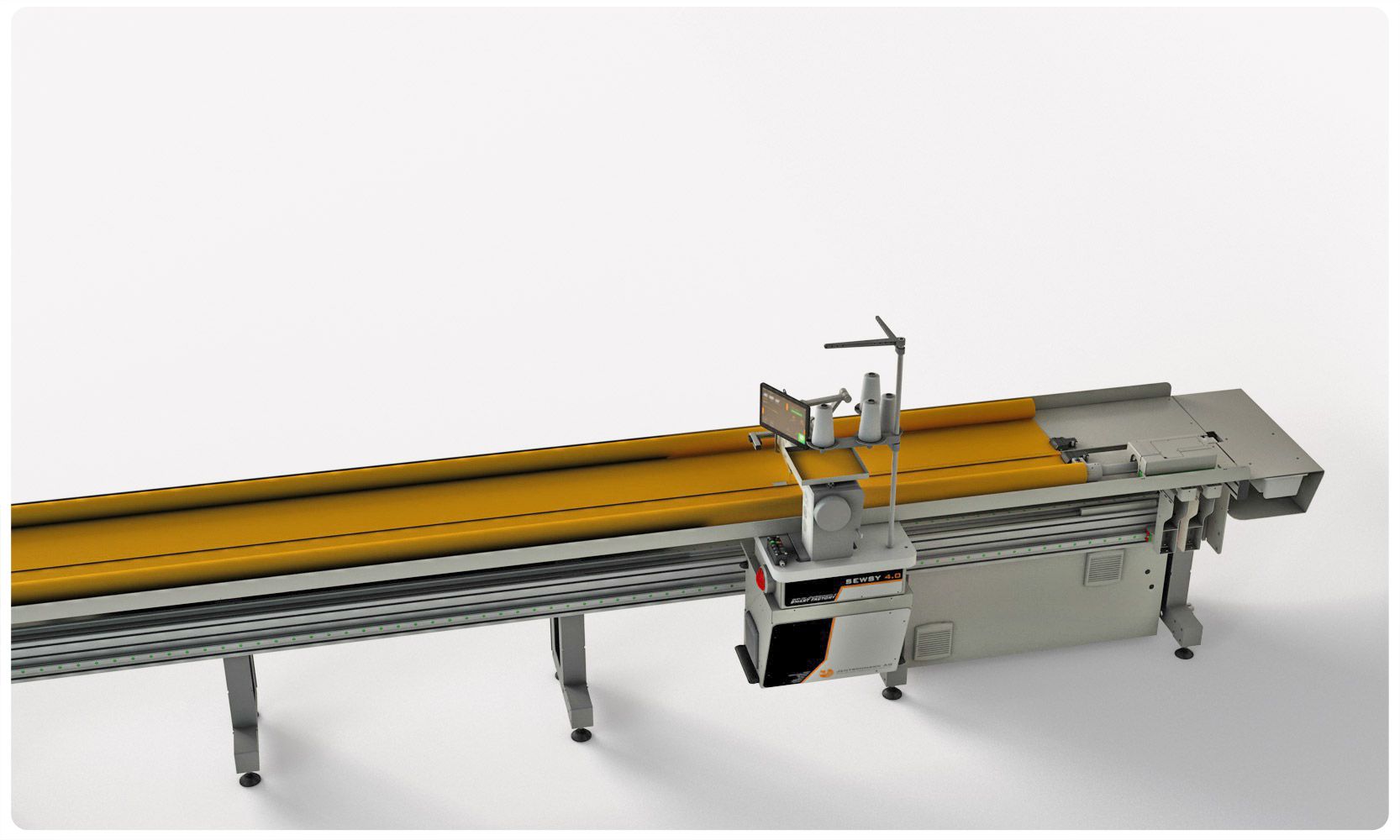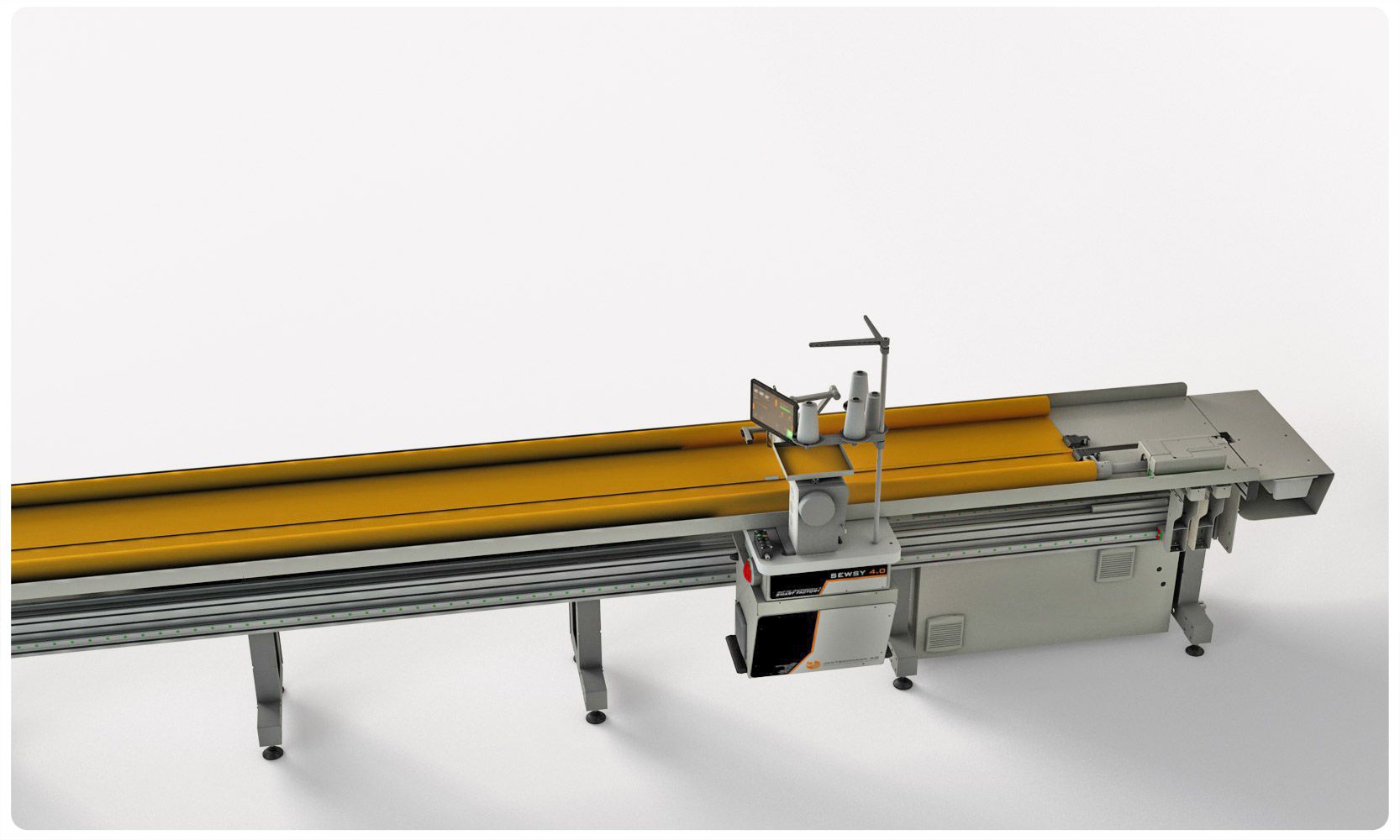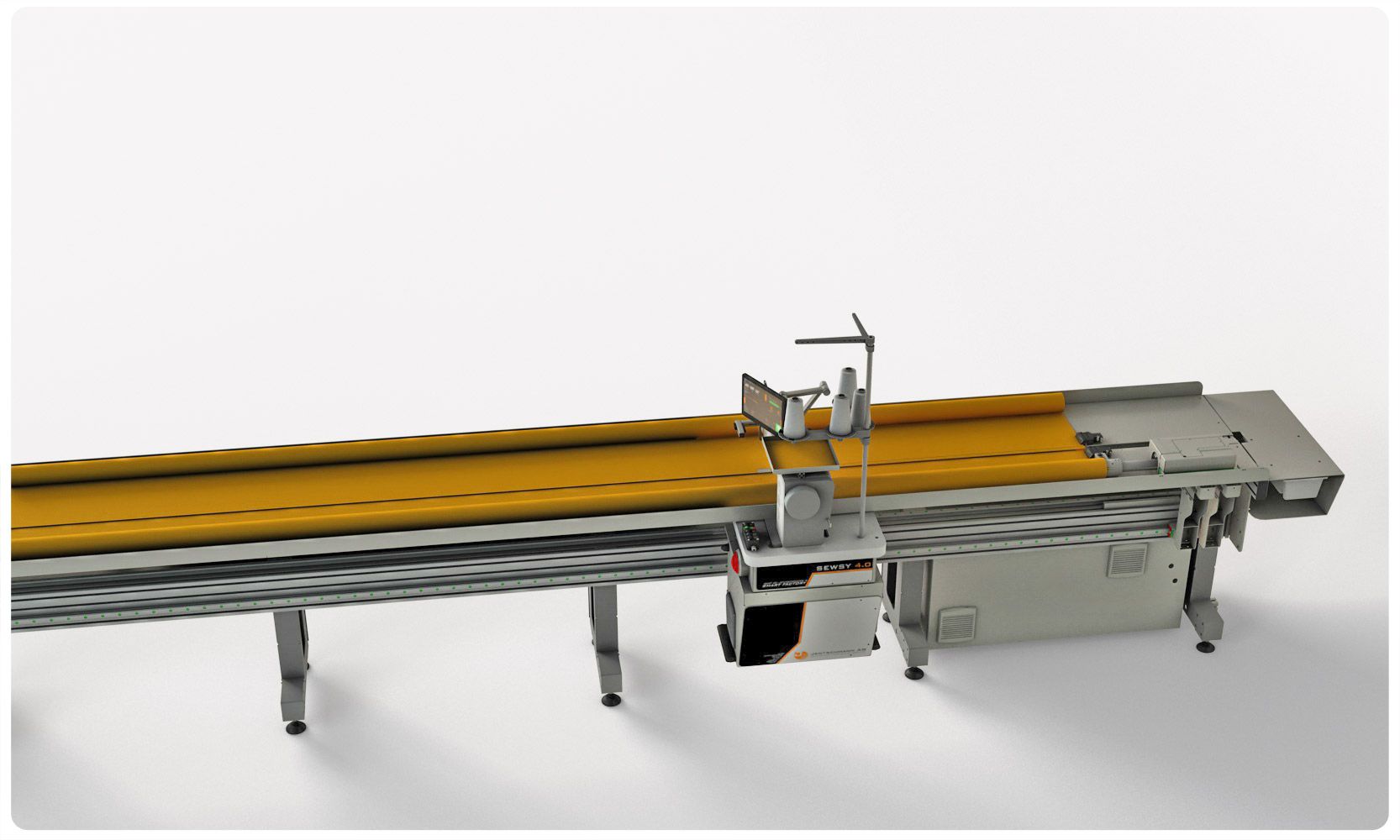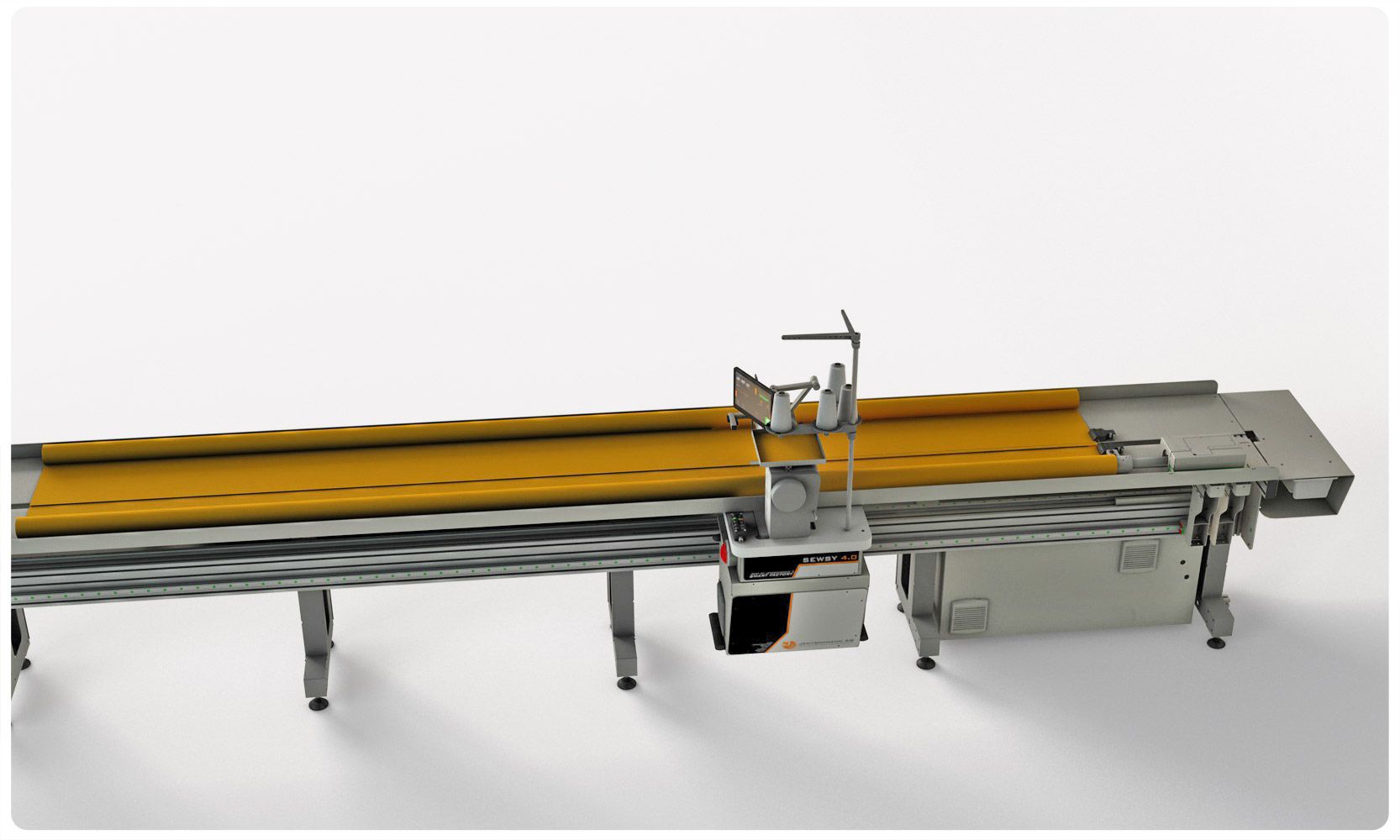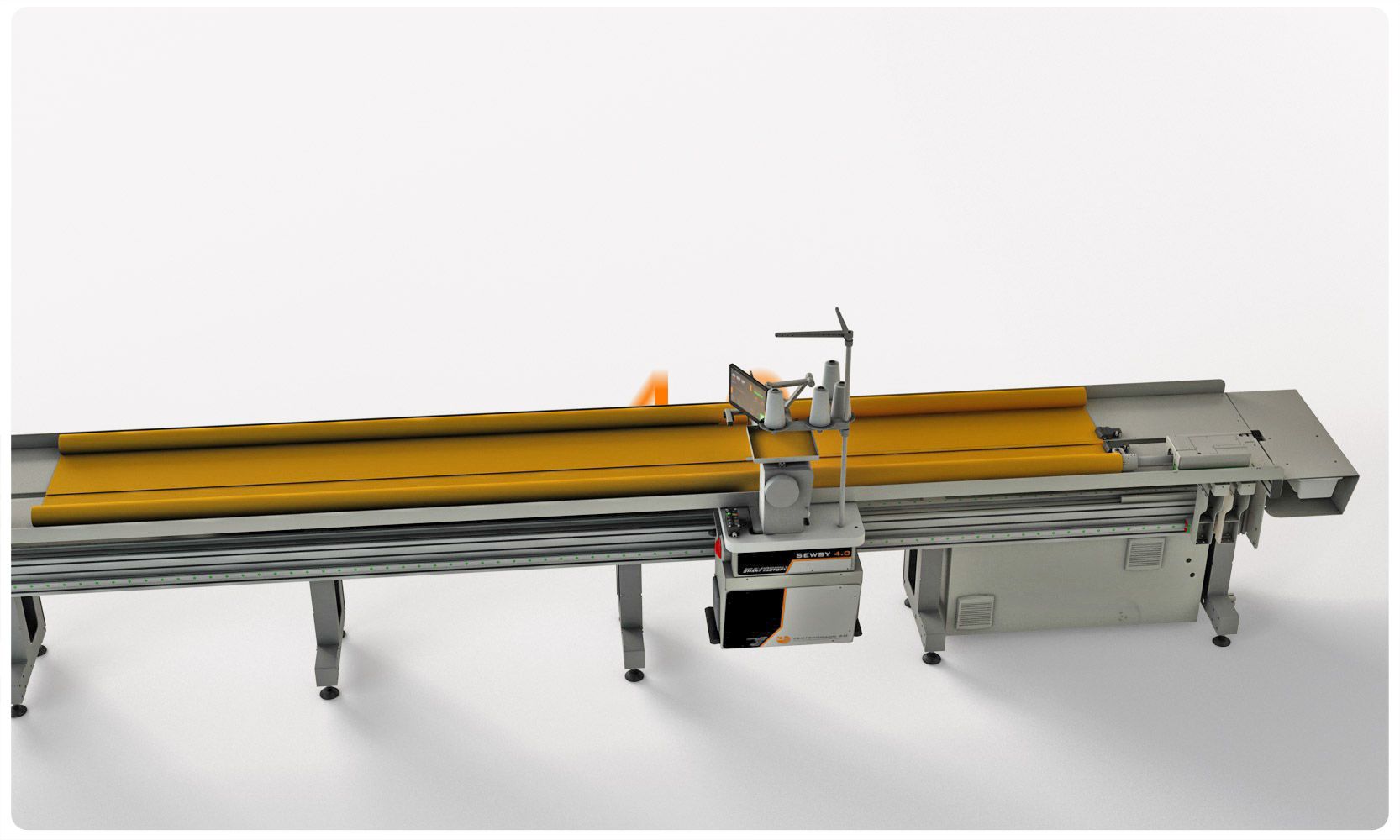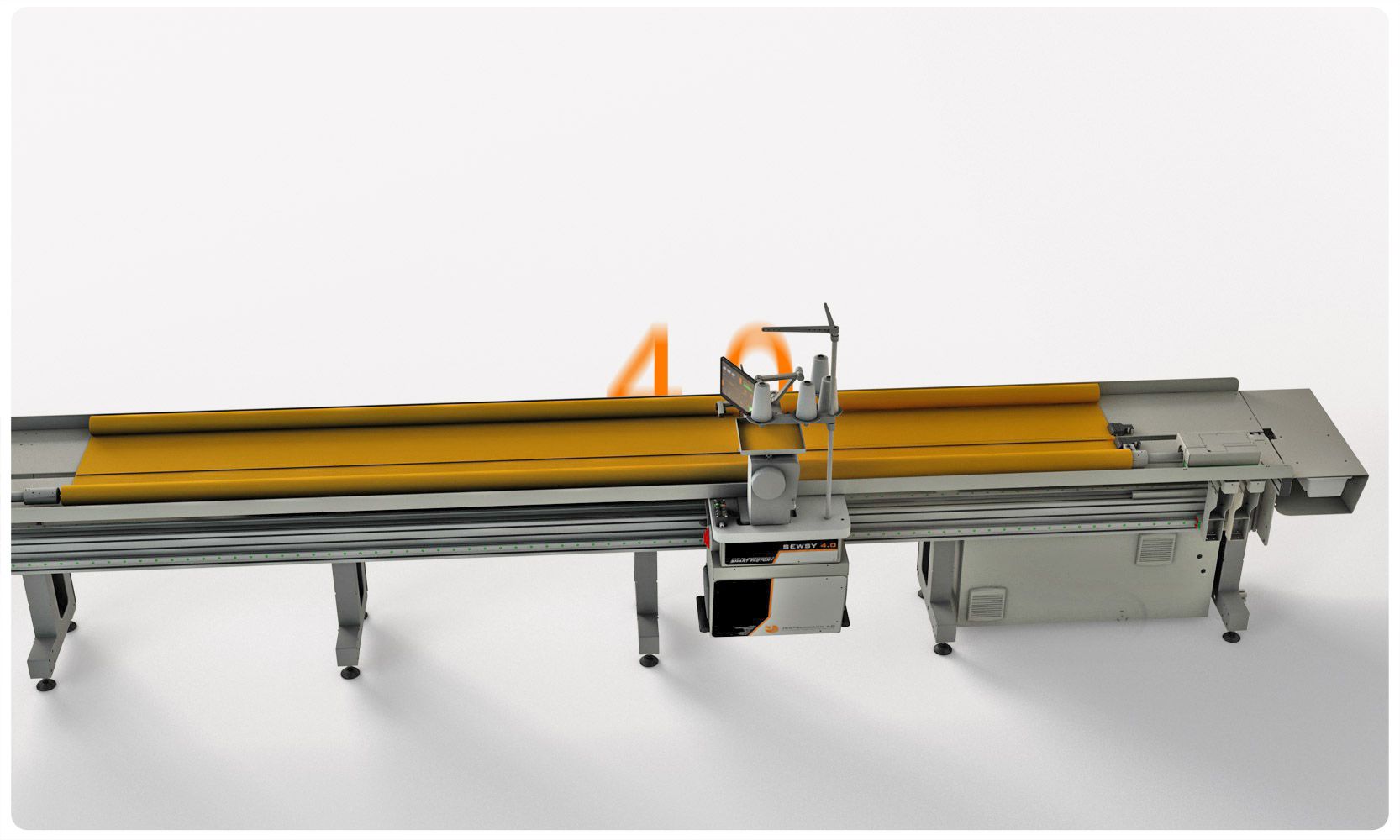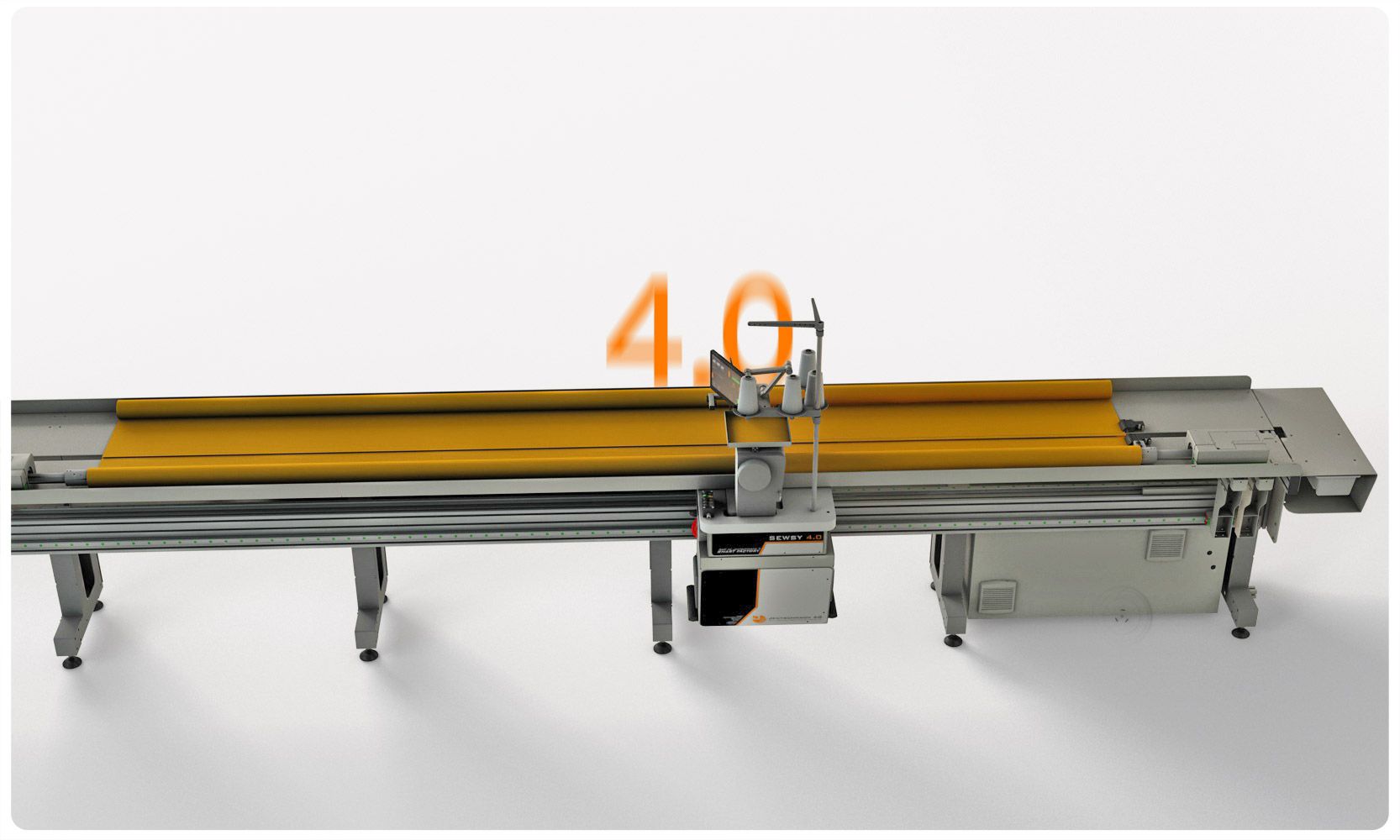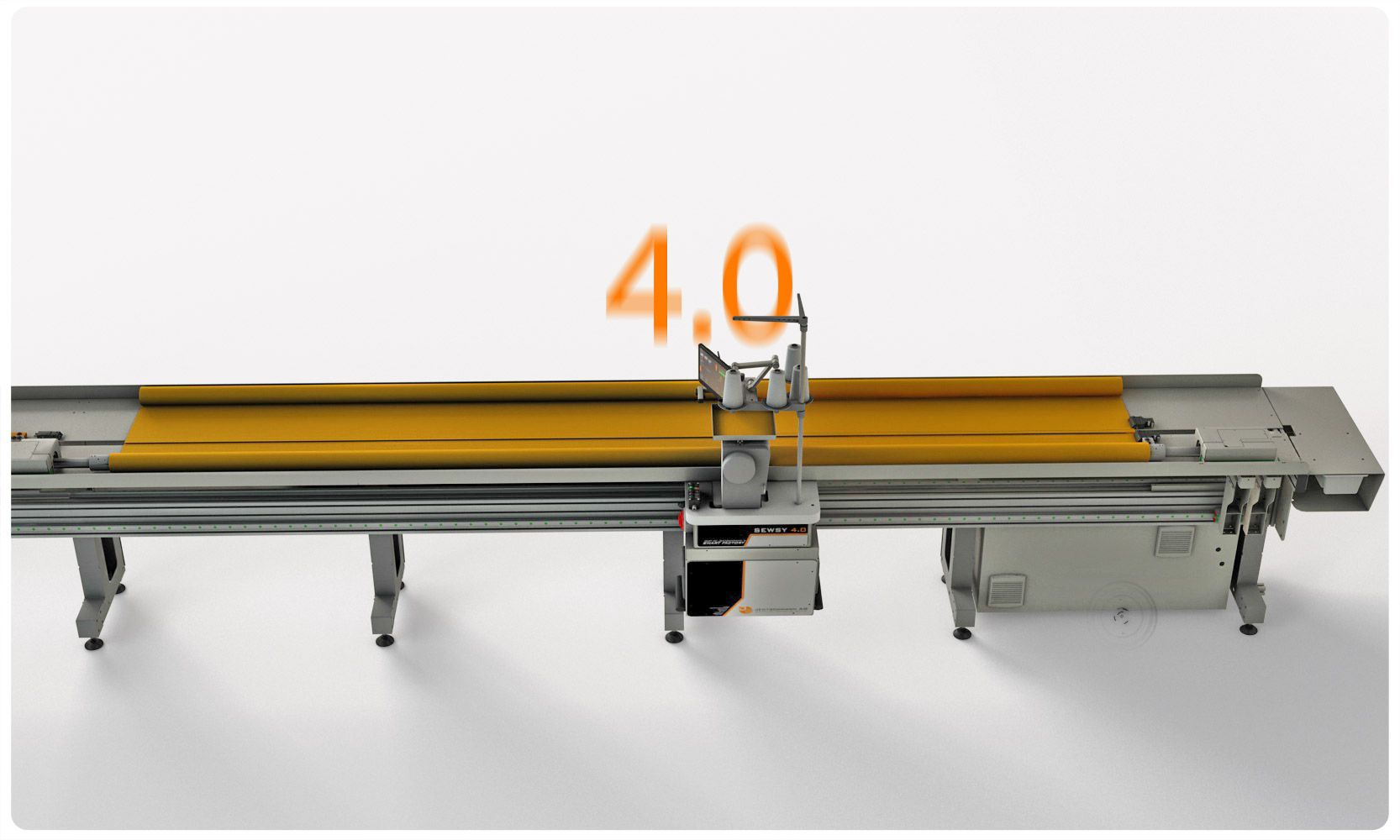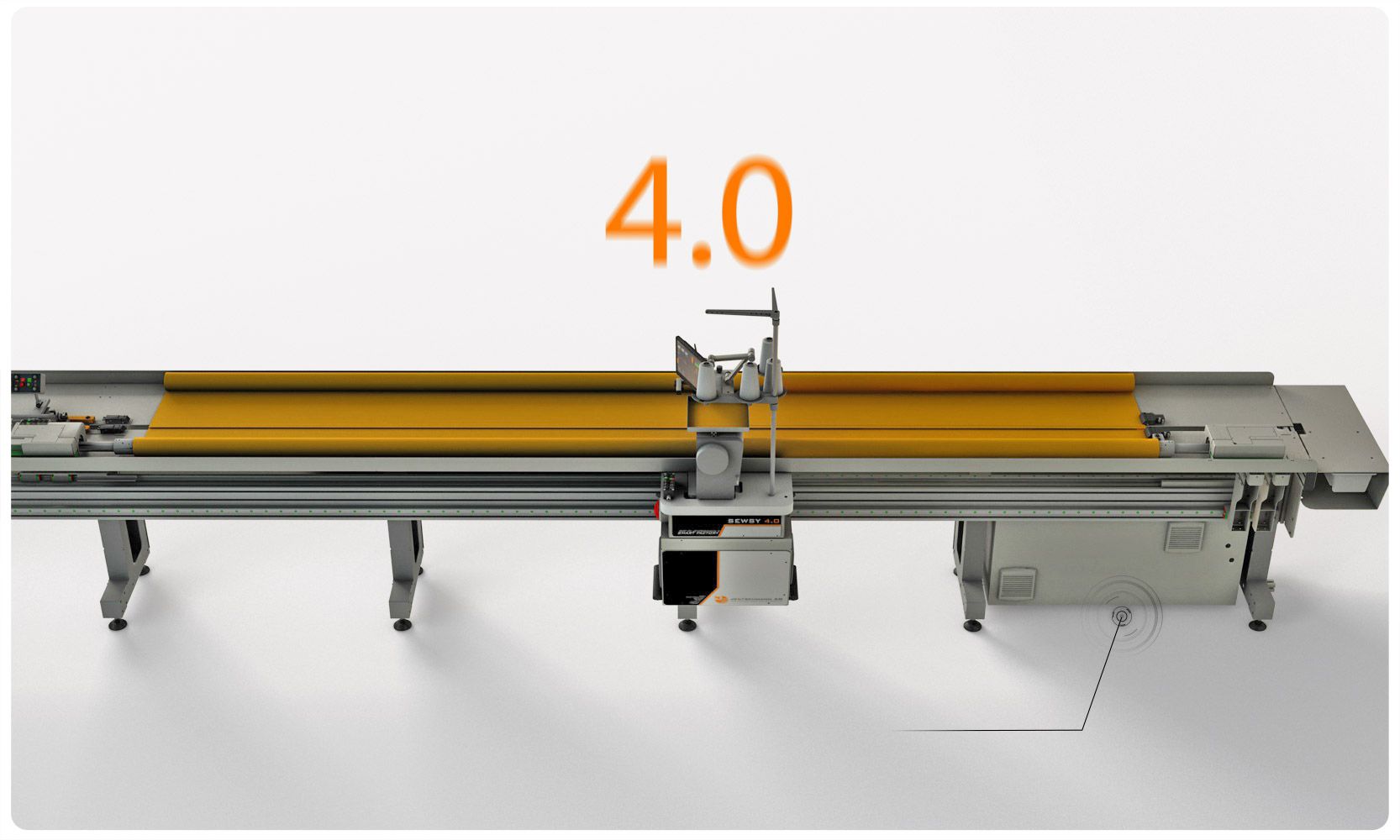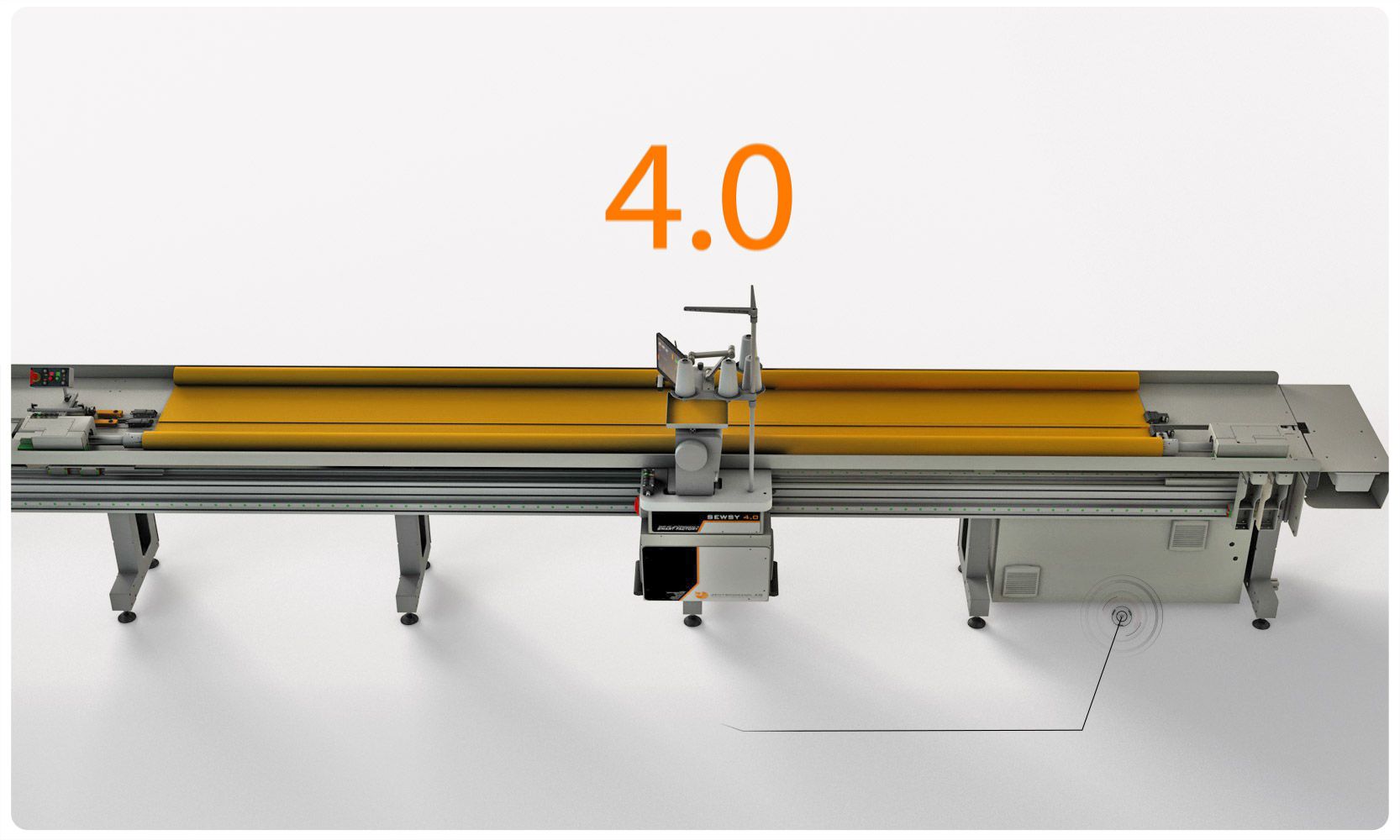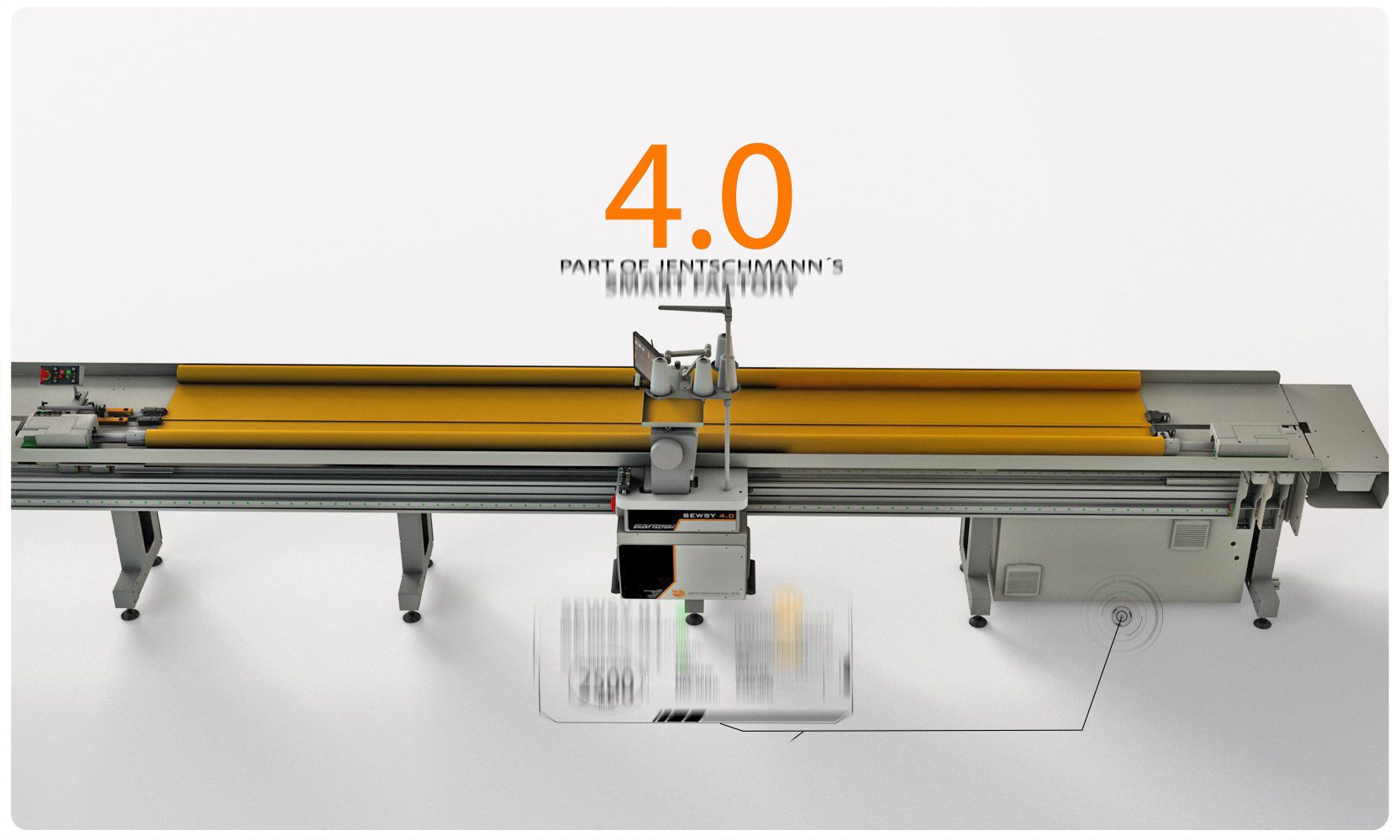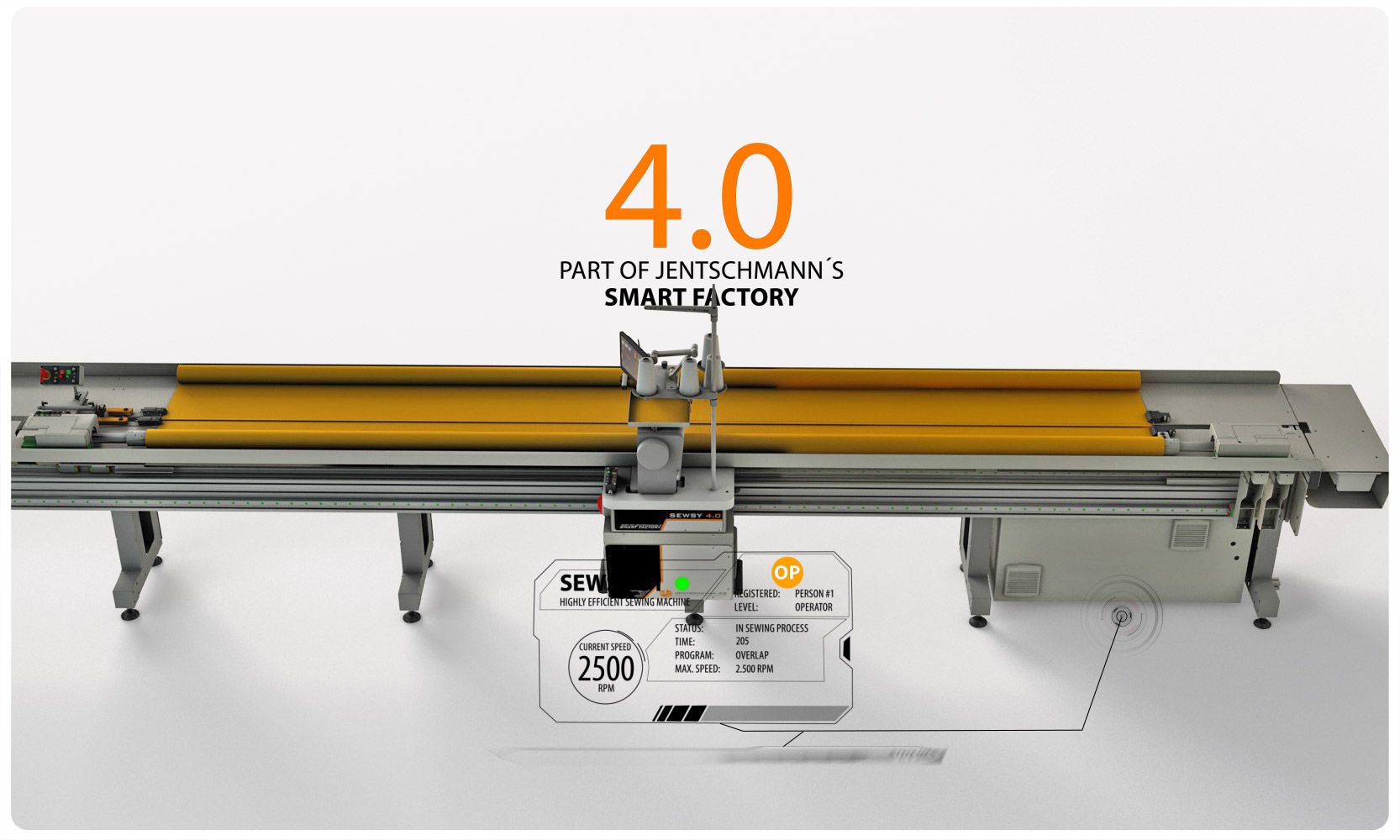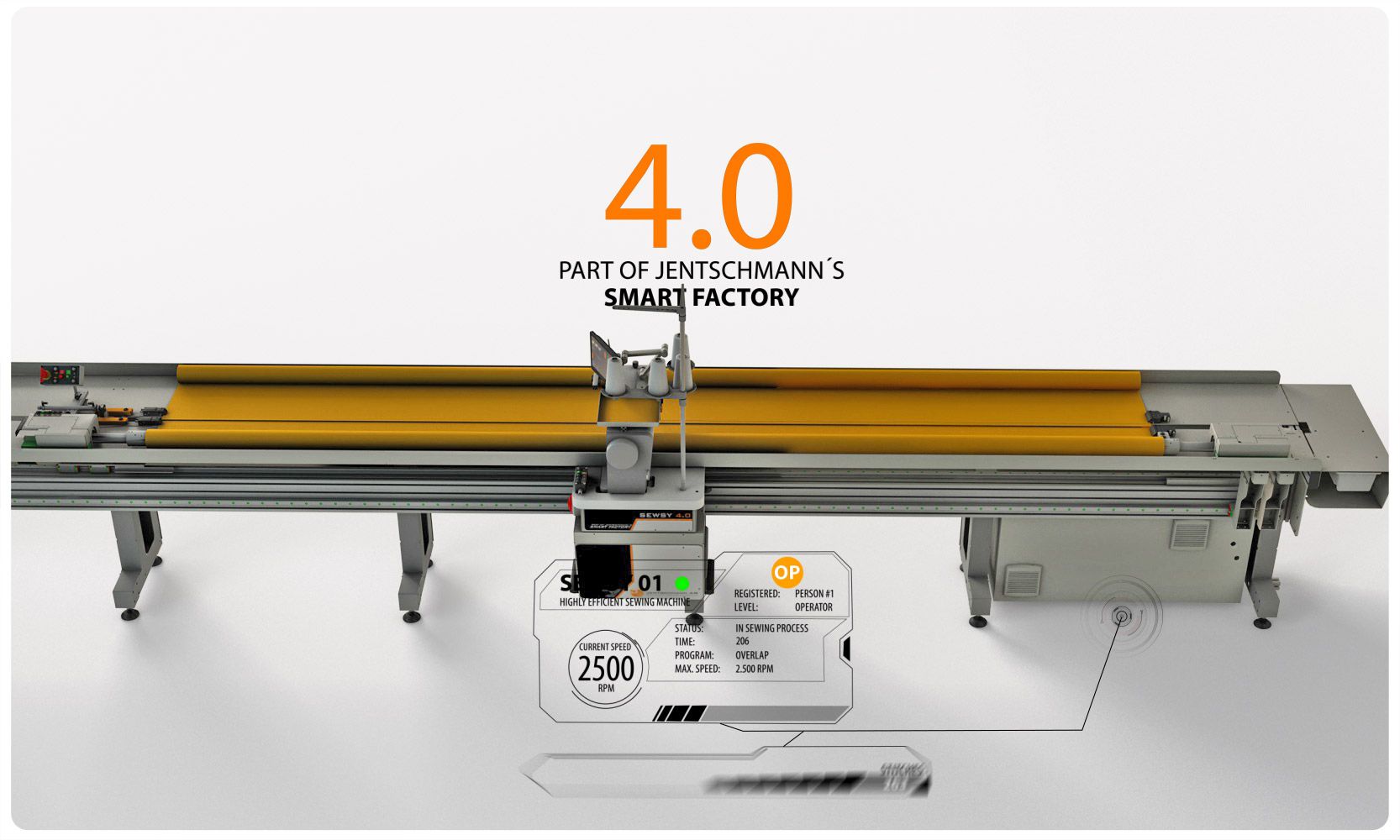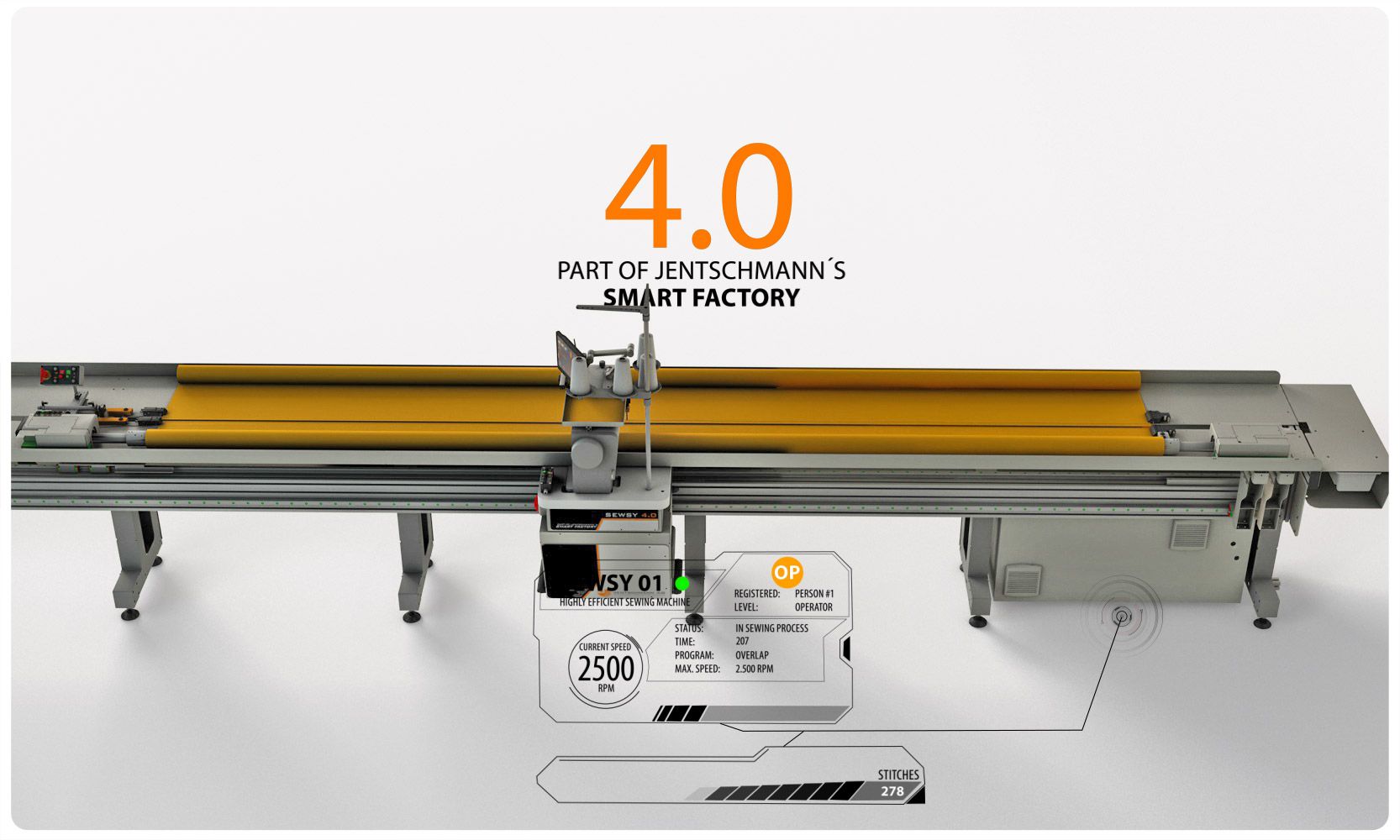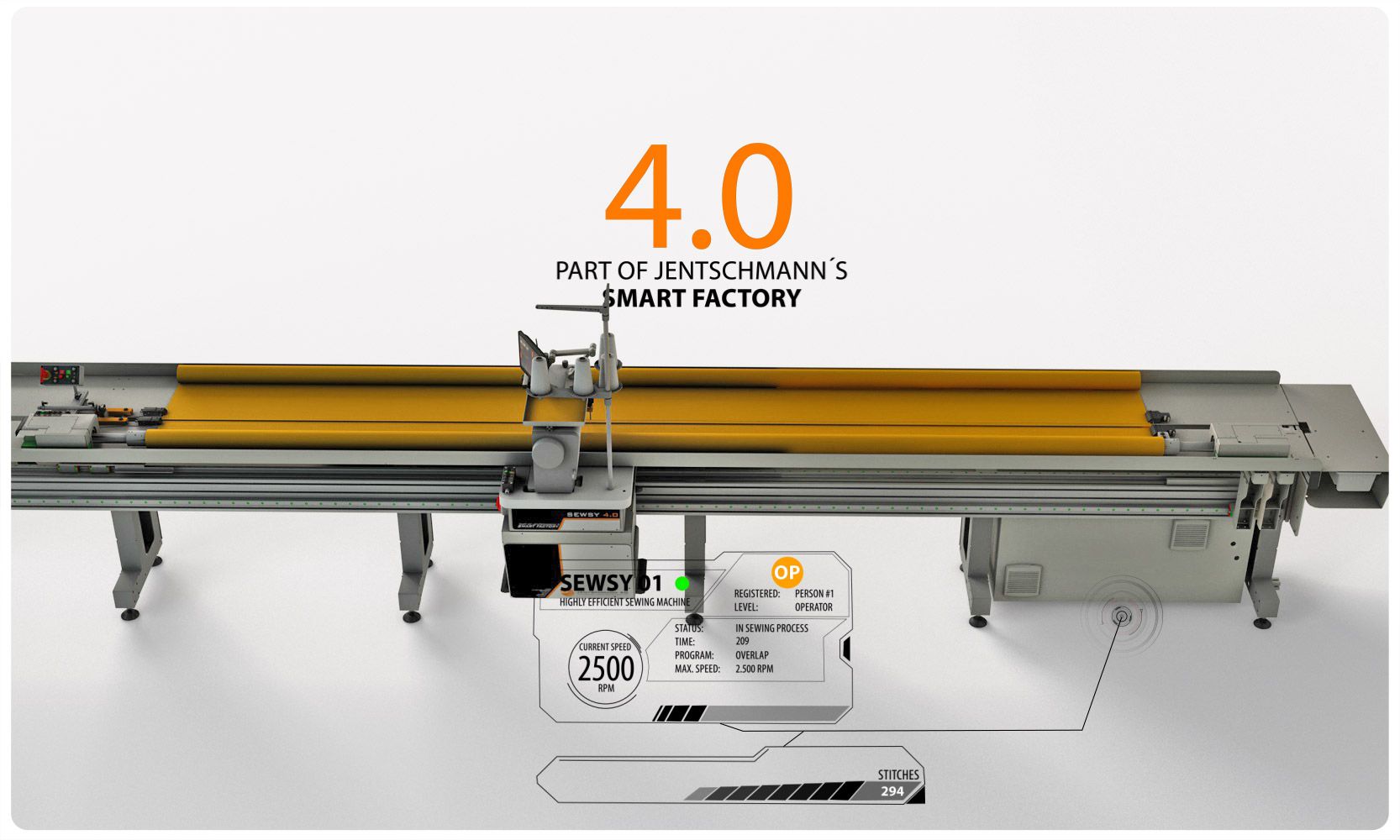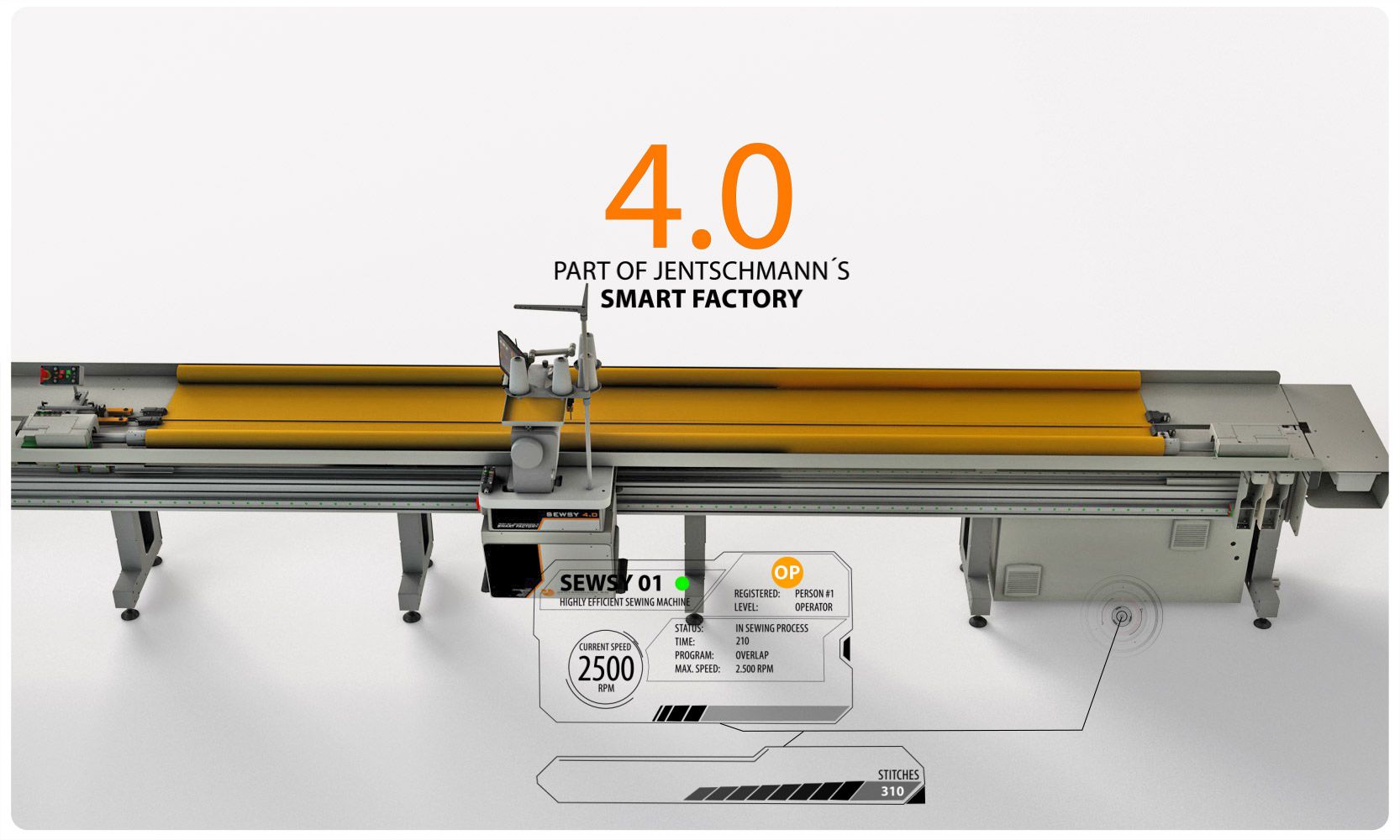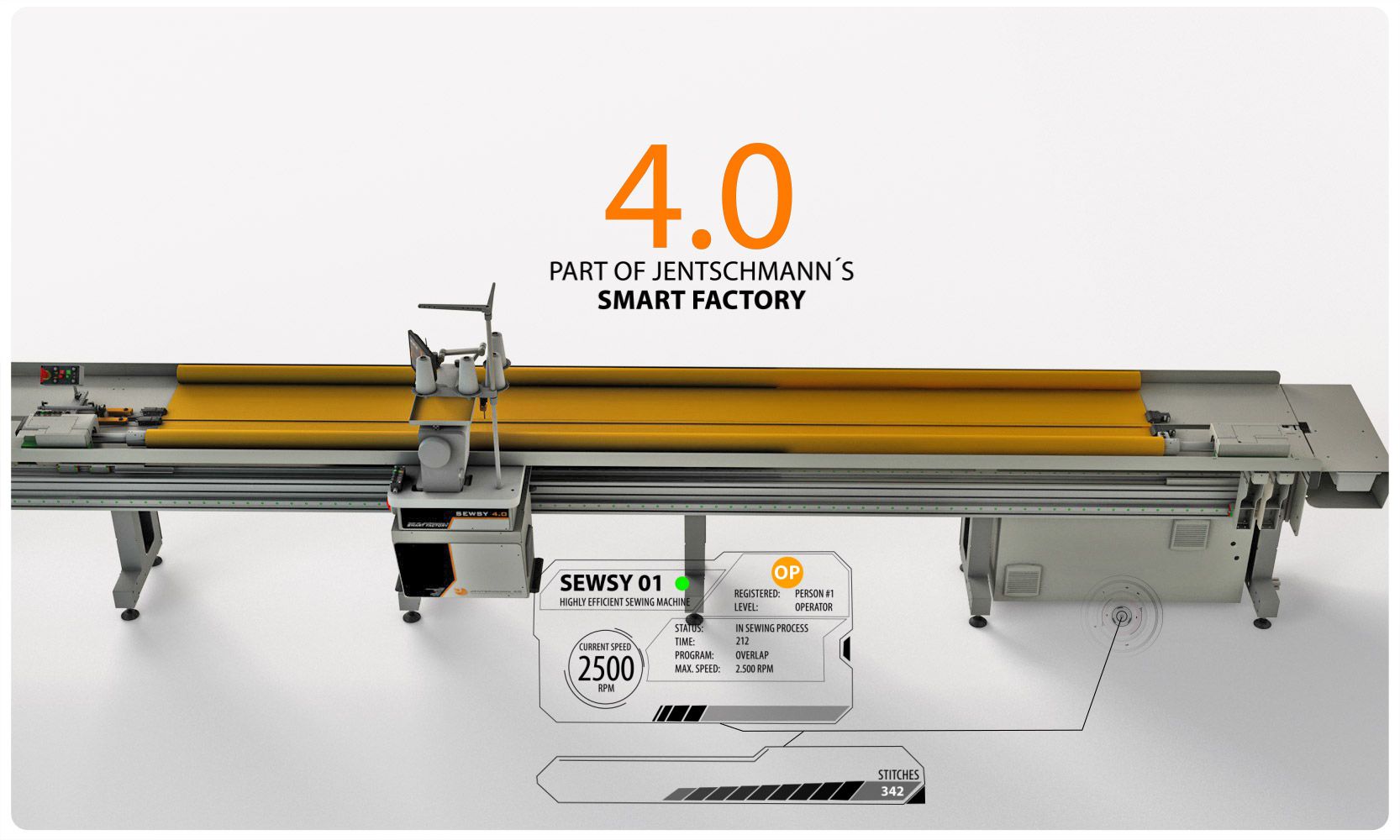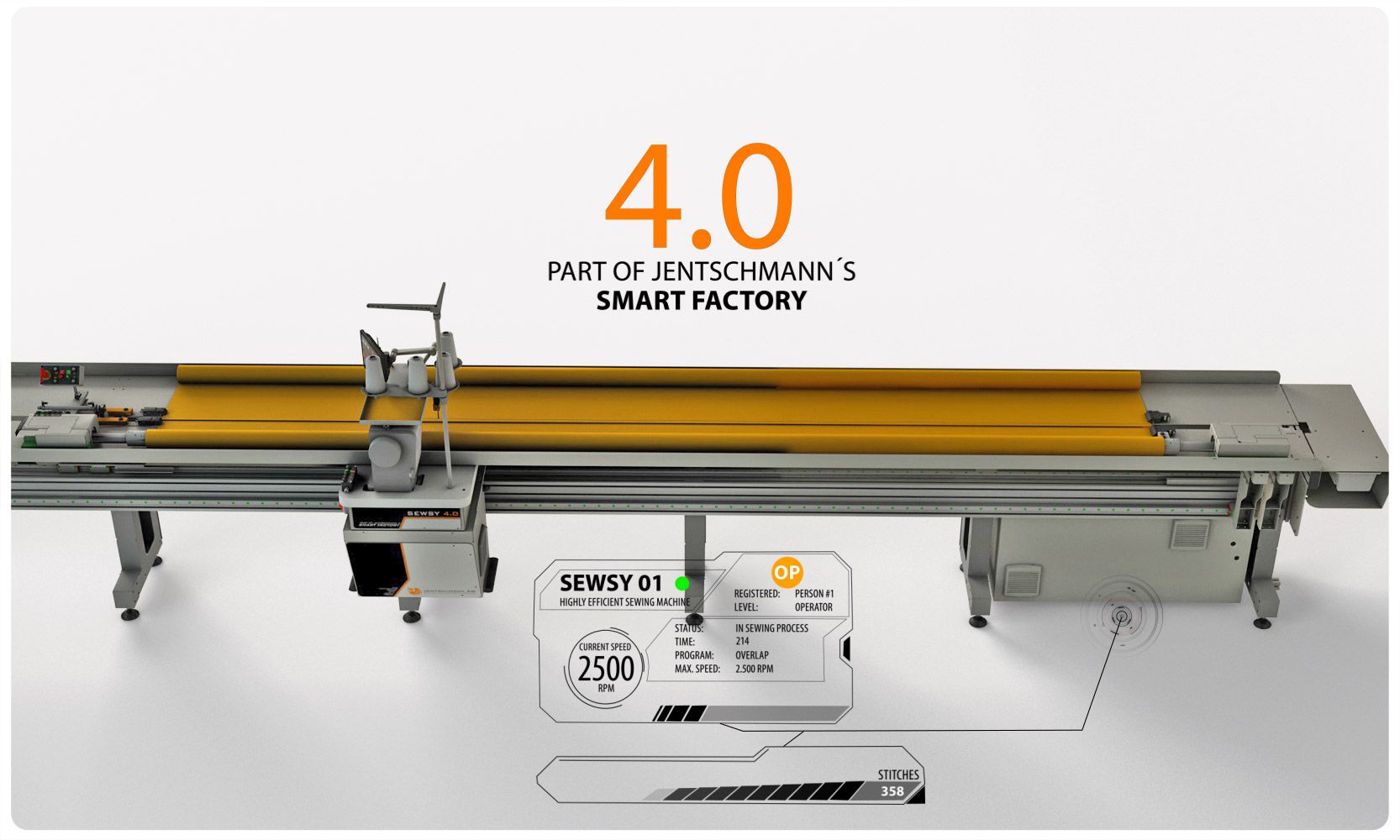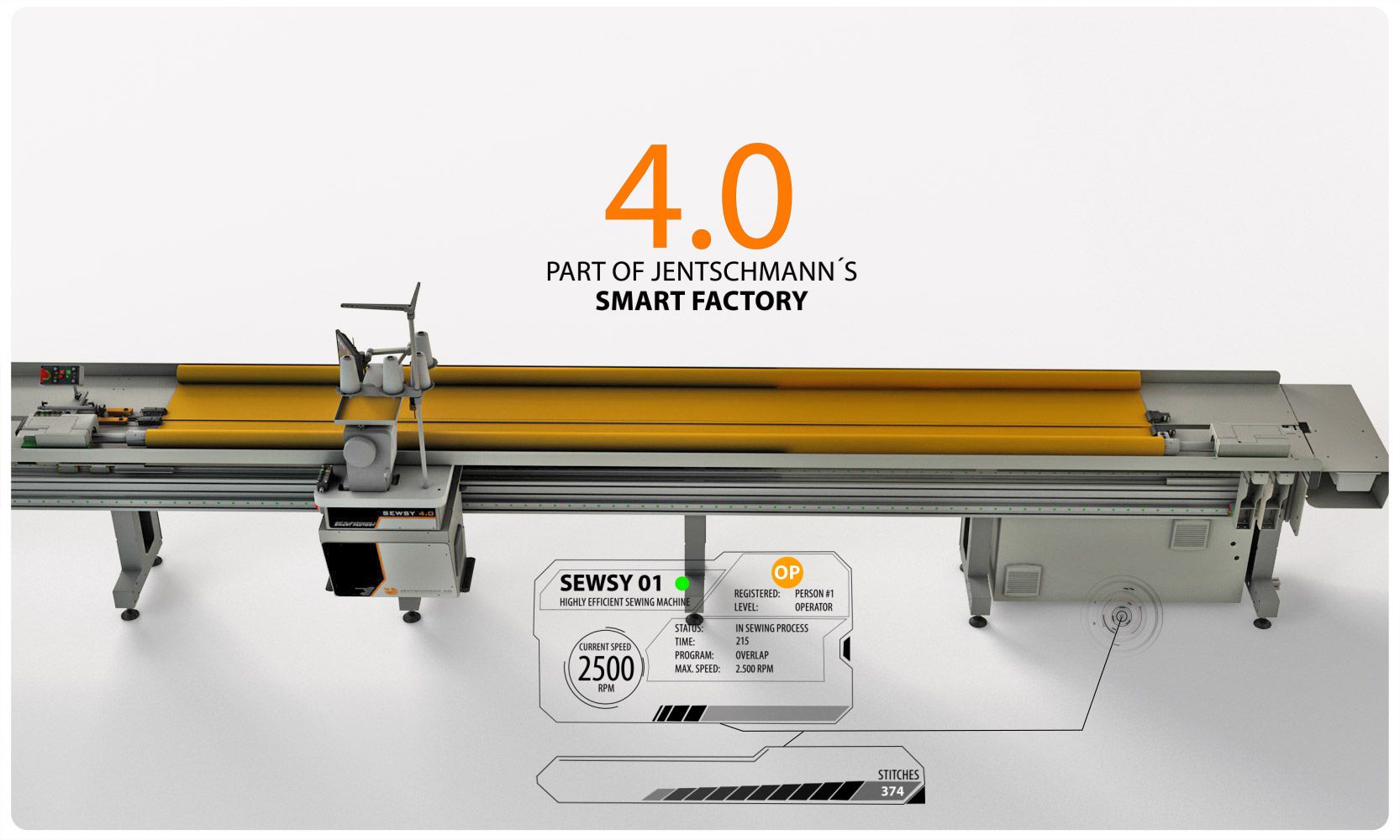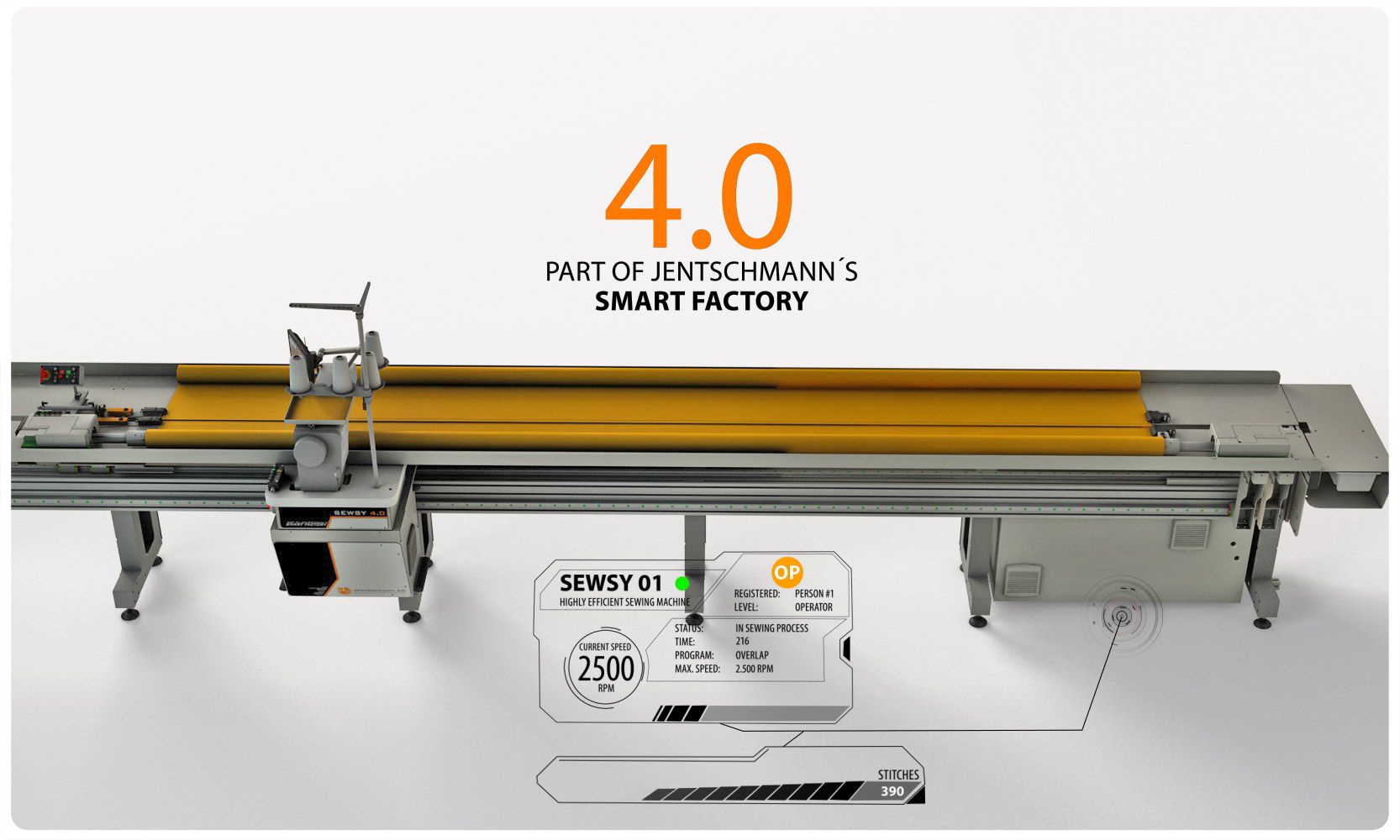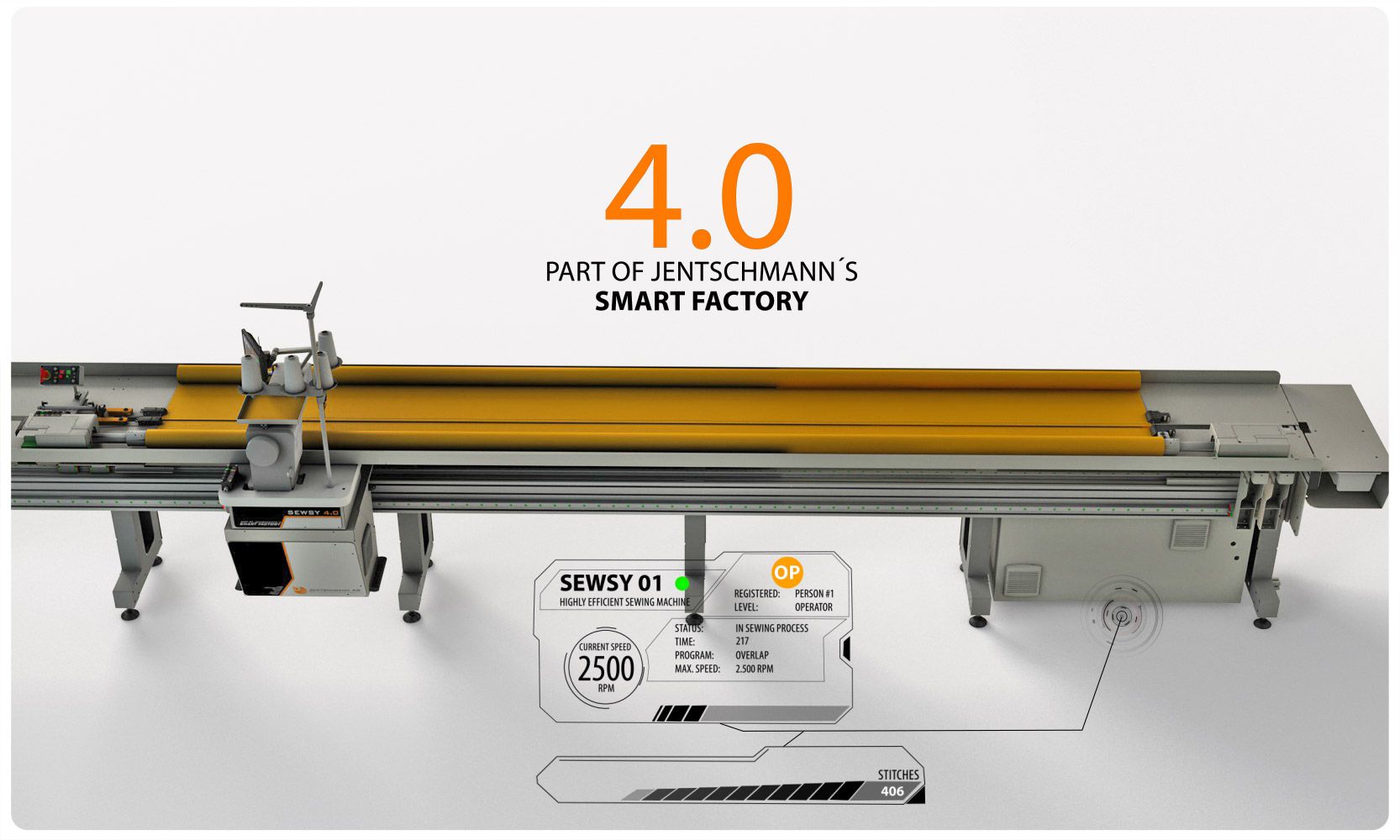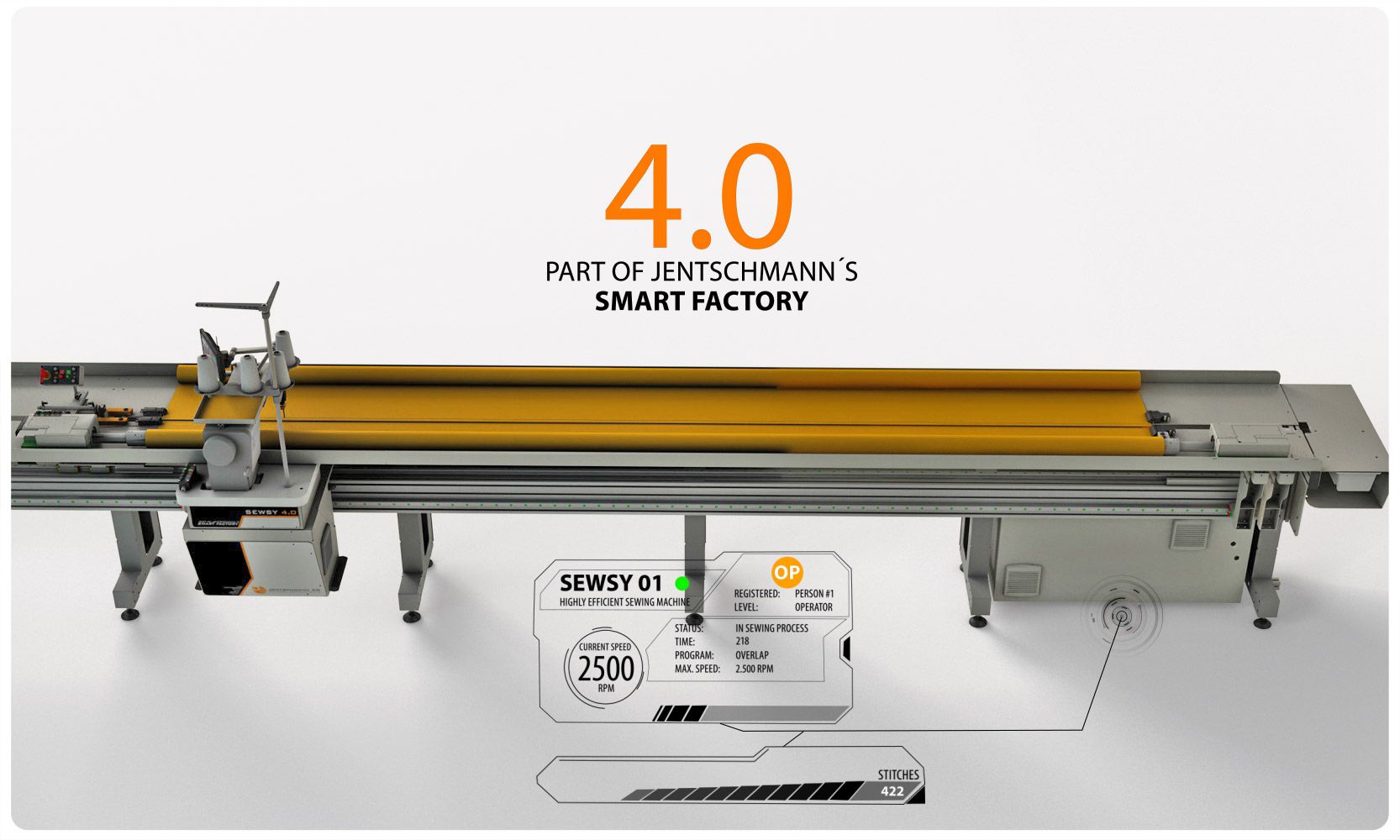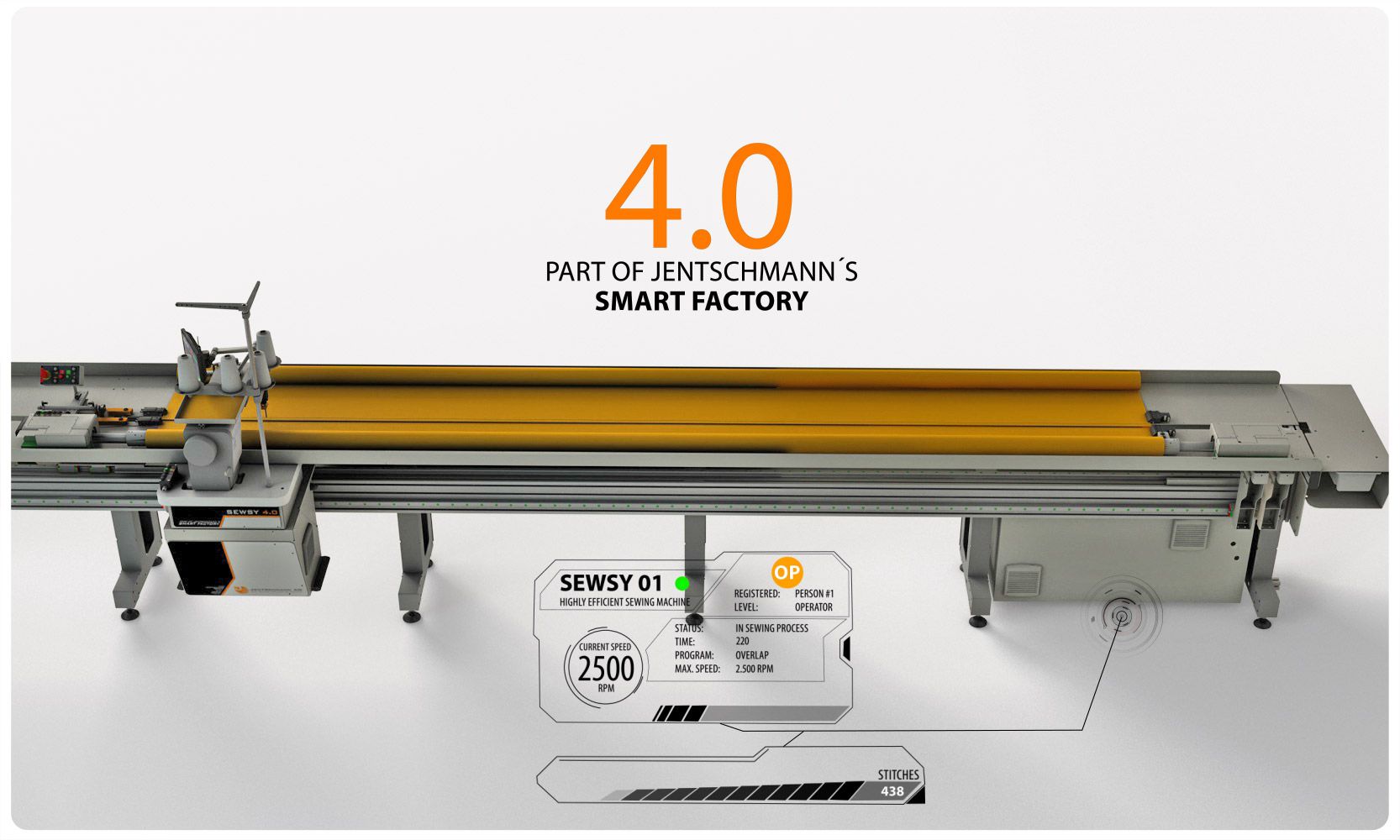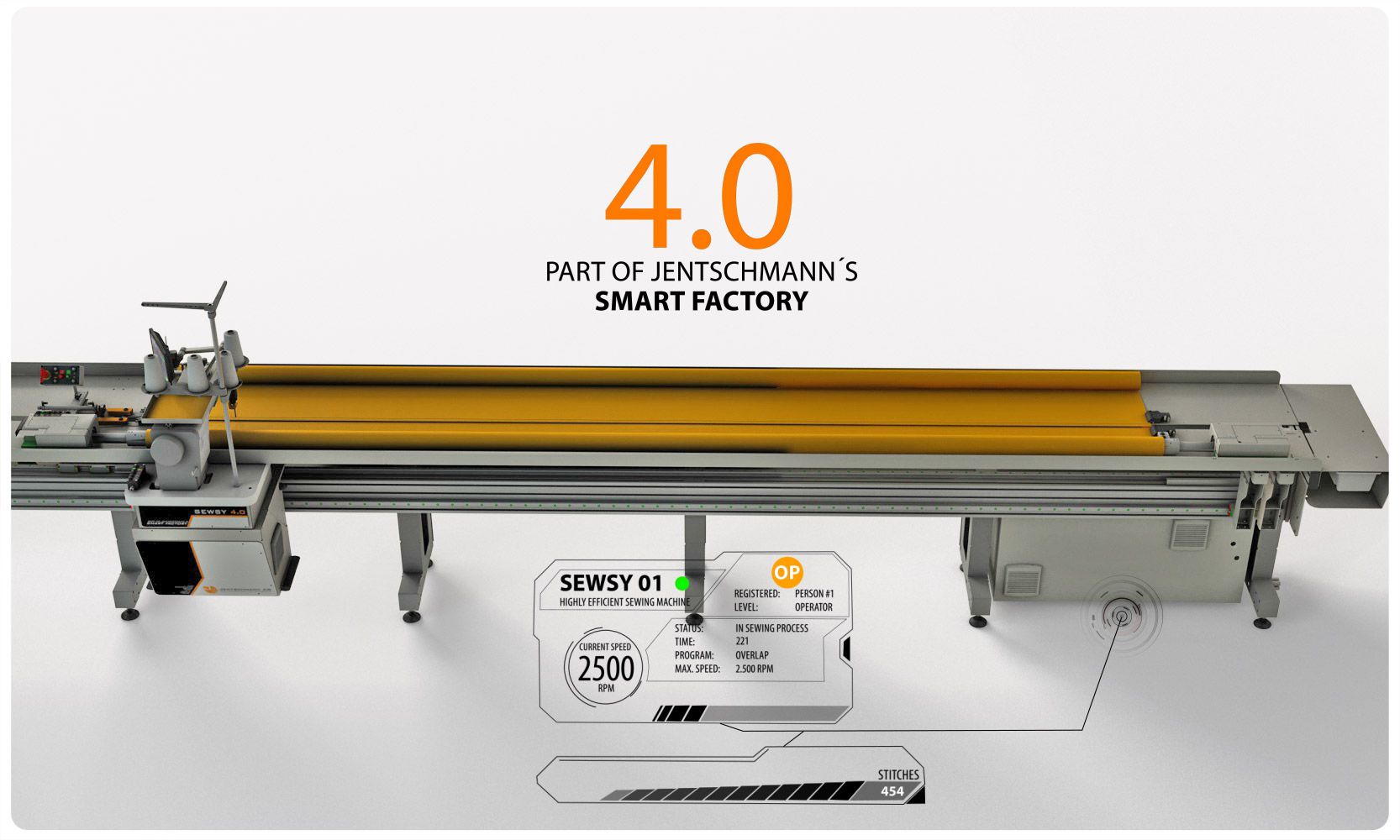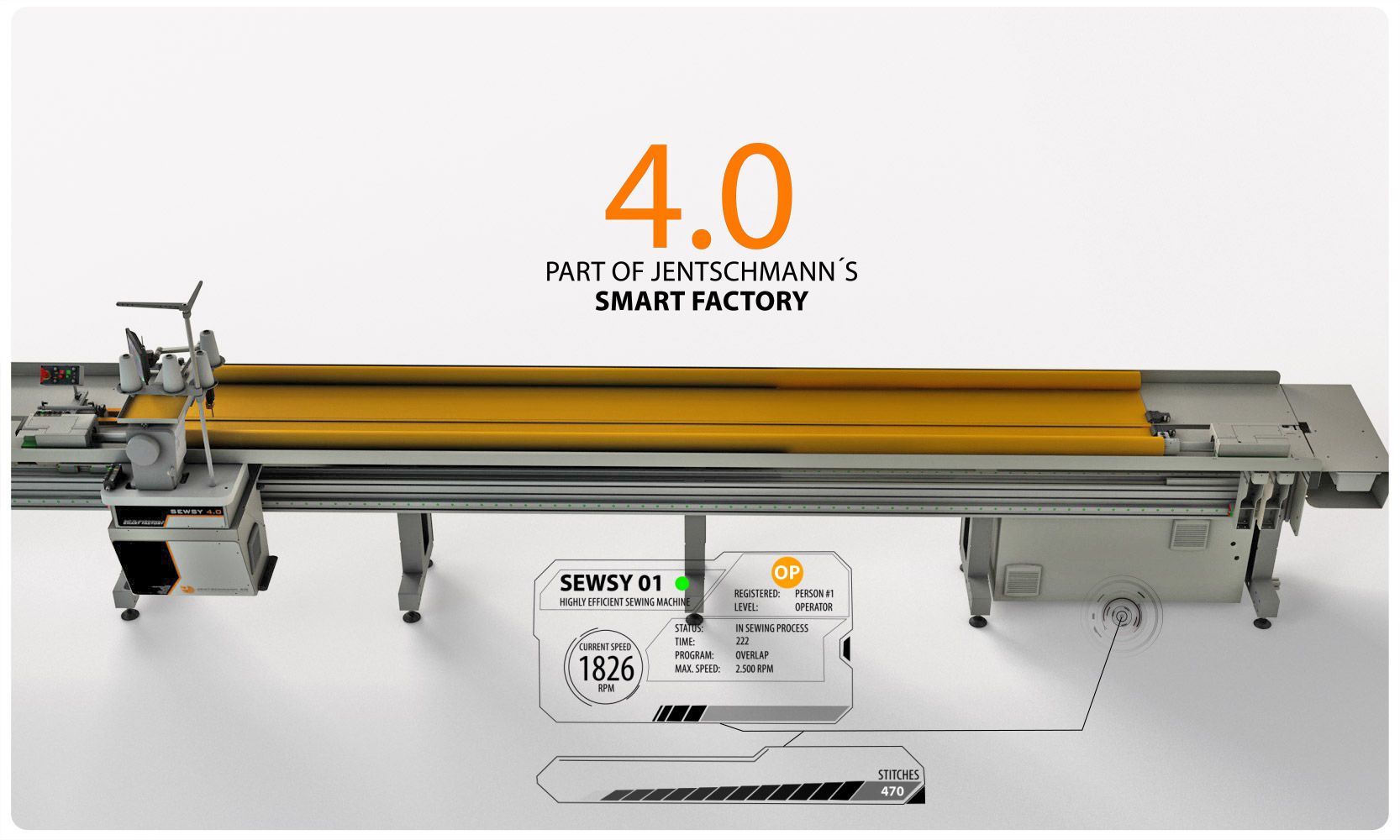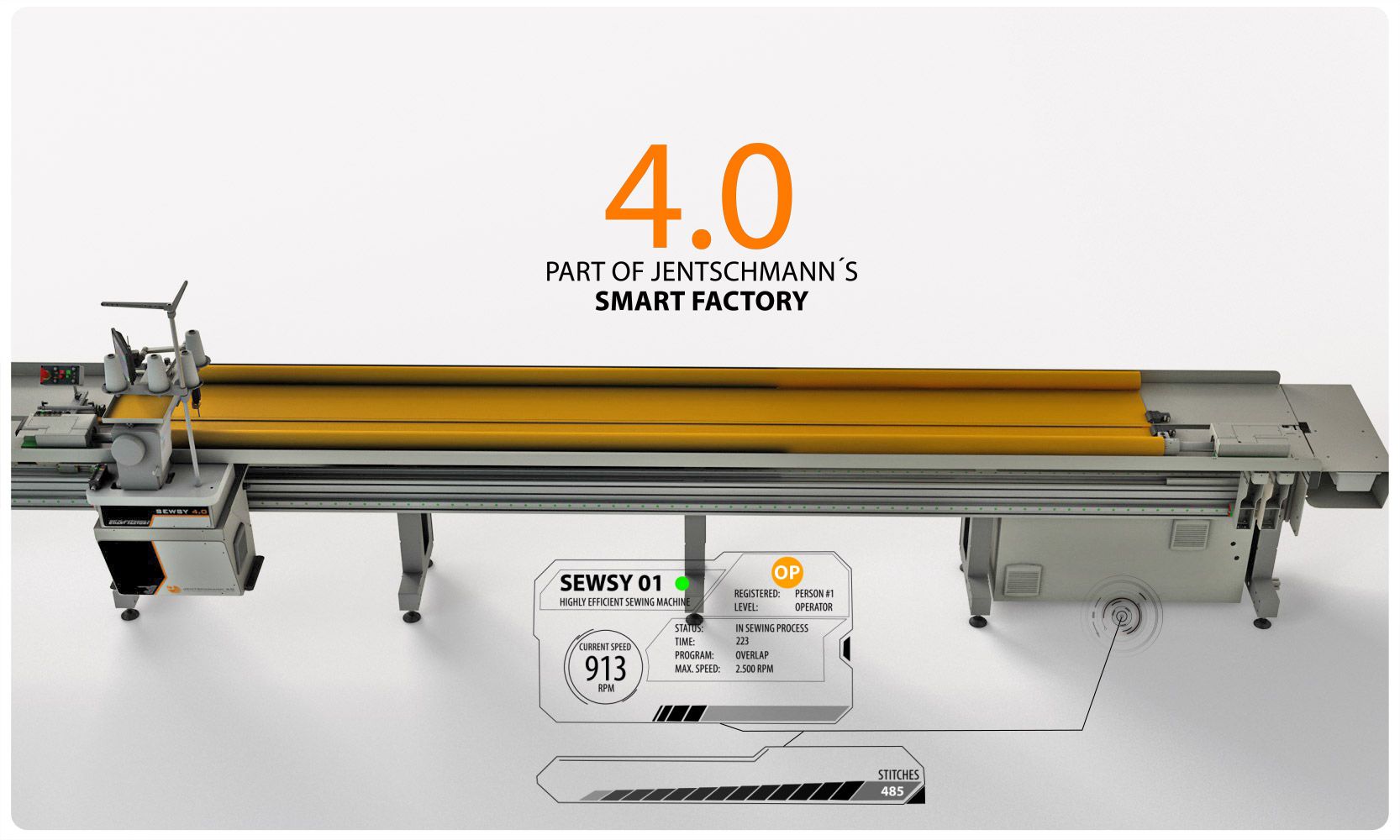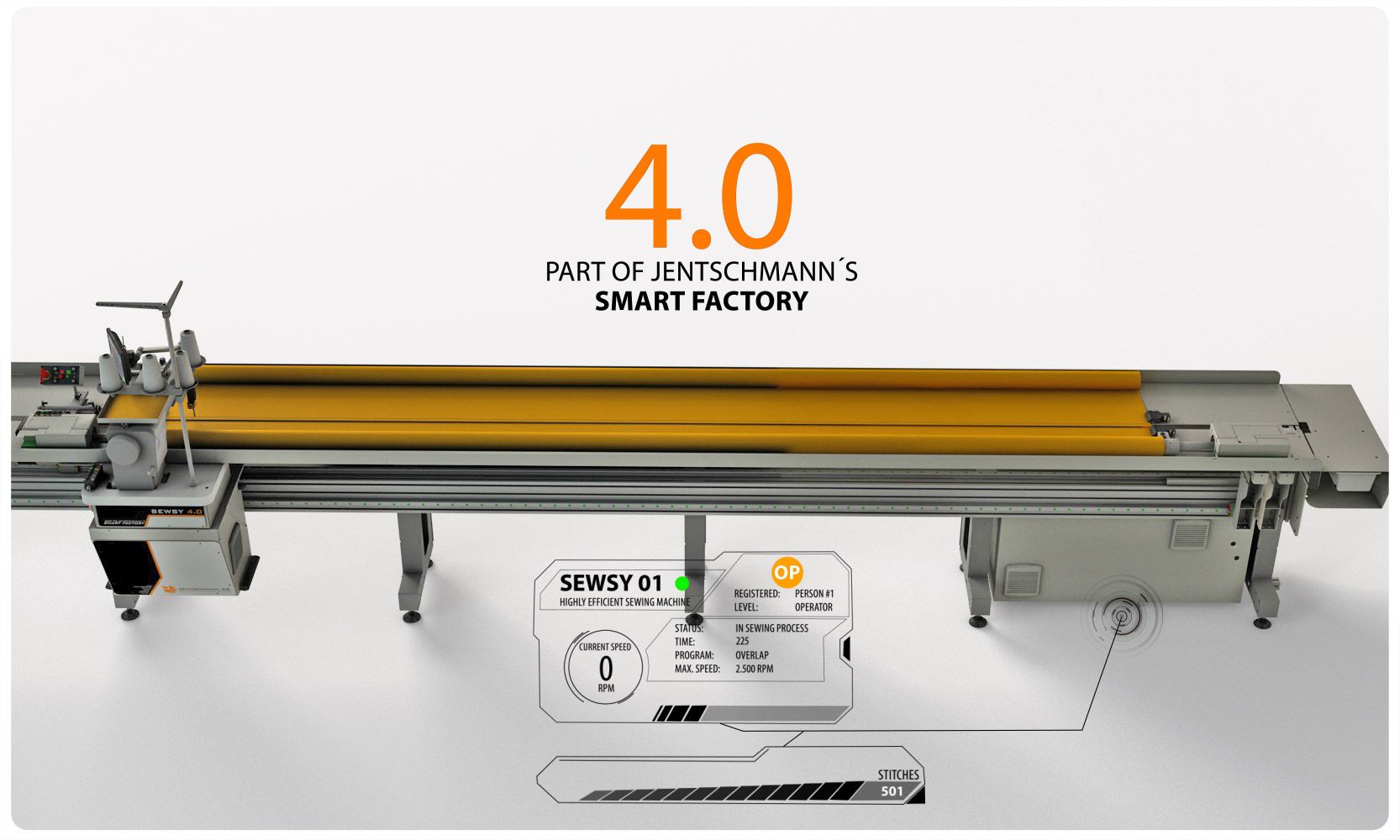 The control concept of the Sewsy 4.0 has been completely revised and now offers numerous new features.
MODERN HMI
The machine now features a 10" touch display with 1920 x 1200 resolution in a highly modern UI design.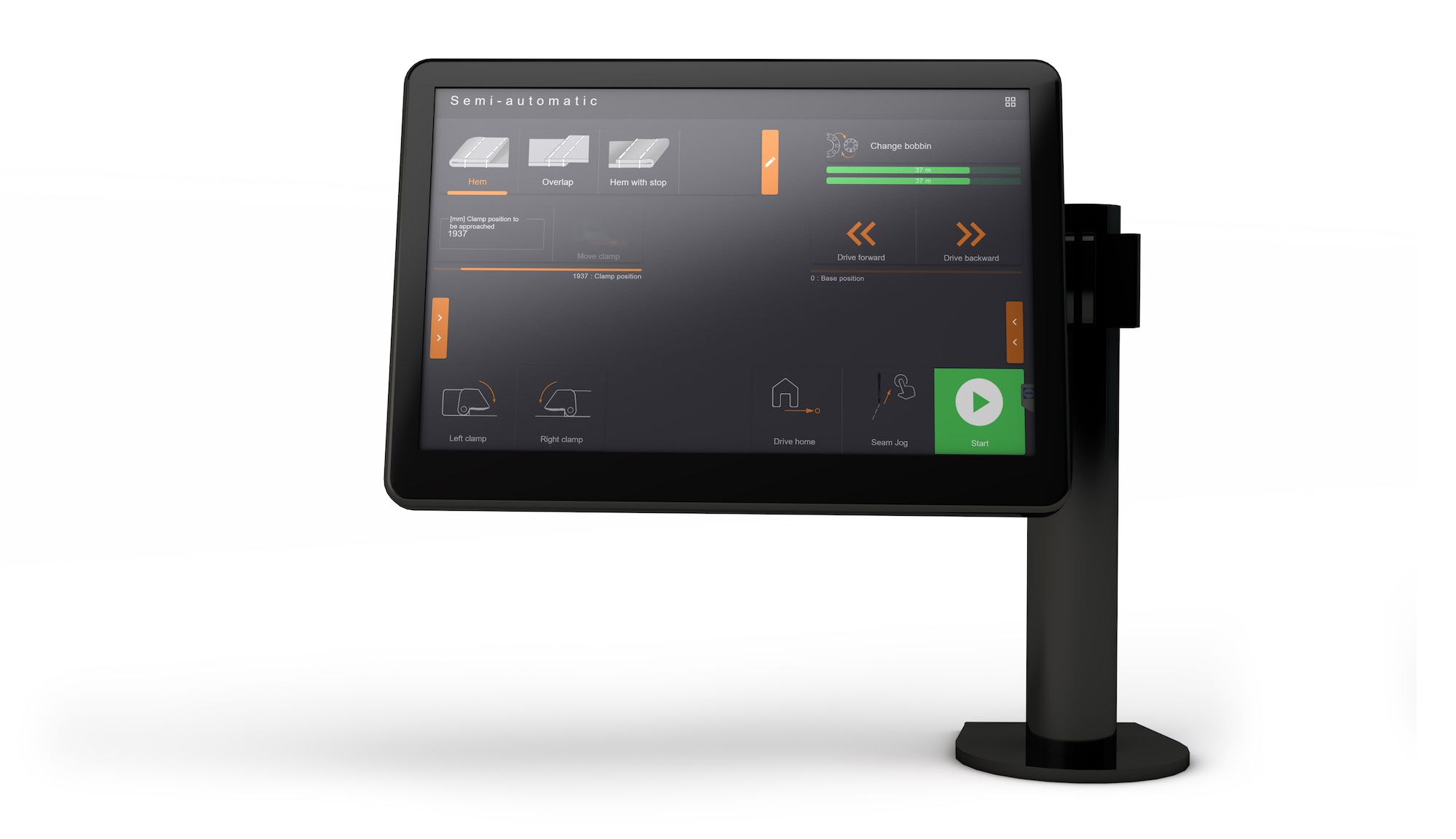 AUTOMATIC POSITIONING
The movable clamp positions itself automatically according to the entered seam length, thus optimizing handling times.
PRECISE FABRIC TENSION
After clamping the fabric, the electronic clamp pulls the fabric a specified distance (mm per meter fabric length) to apply the precise tension needed for a smooth seam.
Smart features that make work more efficient.
REMAINING THREAD MONITOR
Bobbin capacity is monitored and displayed as remaining sewing length in meters. This makes it easy to determine if the next seam can be completed or bobbin change is required first.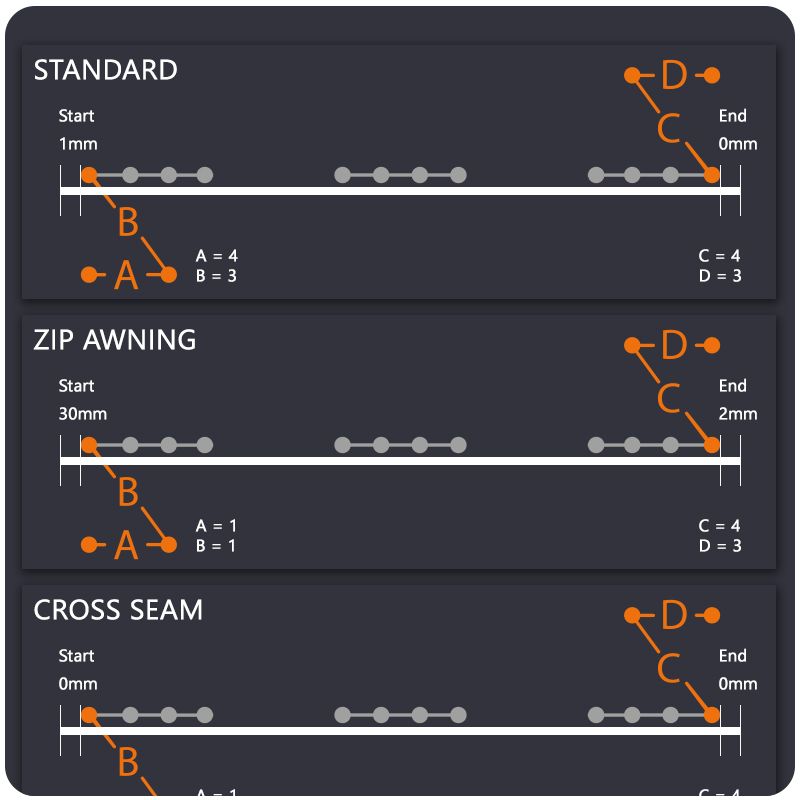 SEAM PROGRAMS
Seam sequences for various operations are easy to make, save, and recall directly on the machine. Start and end positions, back tacks, and intermediate stops / tacks can be adjusted as required.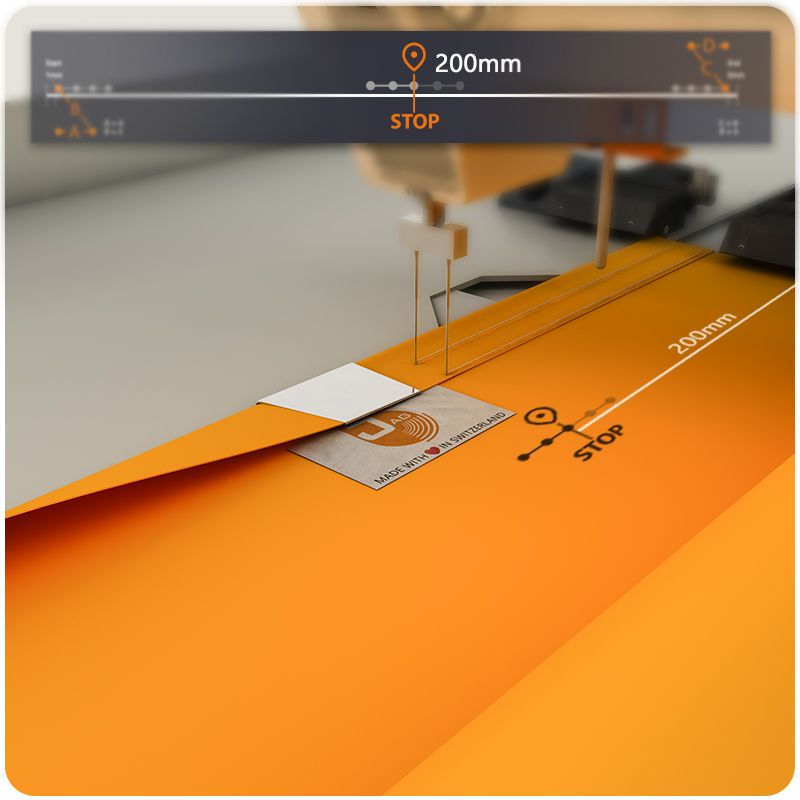 LABEL POSITION
If labels are sewn into a side hem, the machine can stop at the defined position and resume sewing after operator inserts the label.
ADJUSTABLE DISPLAY
The position and angle of the touch display can be adjusted to the operator preference.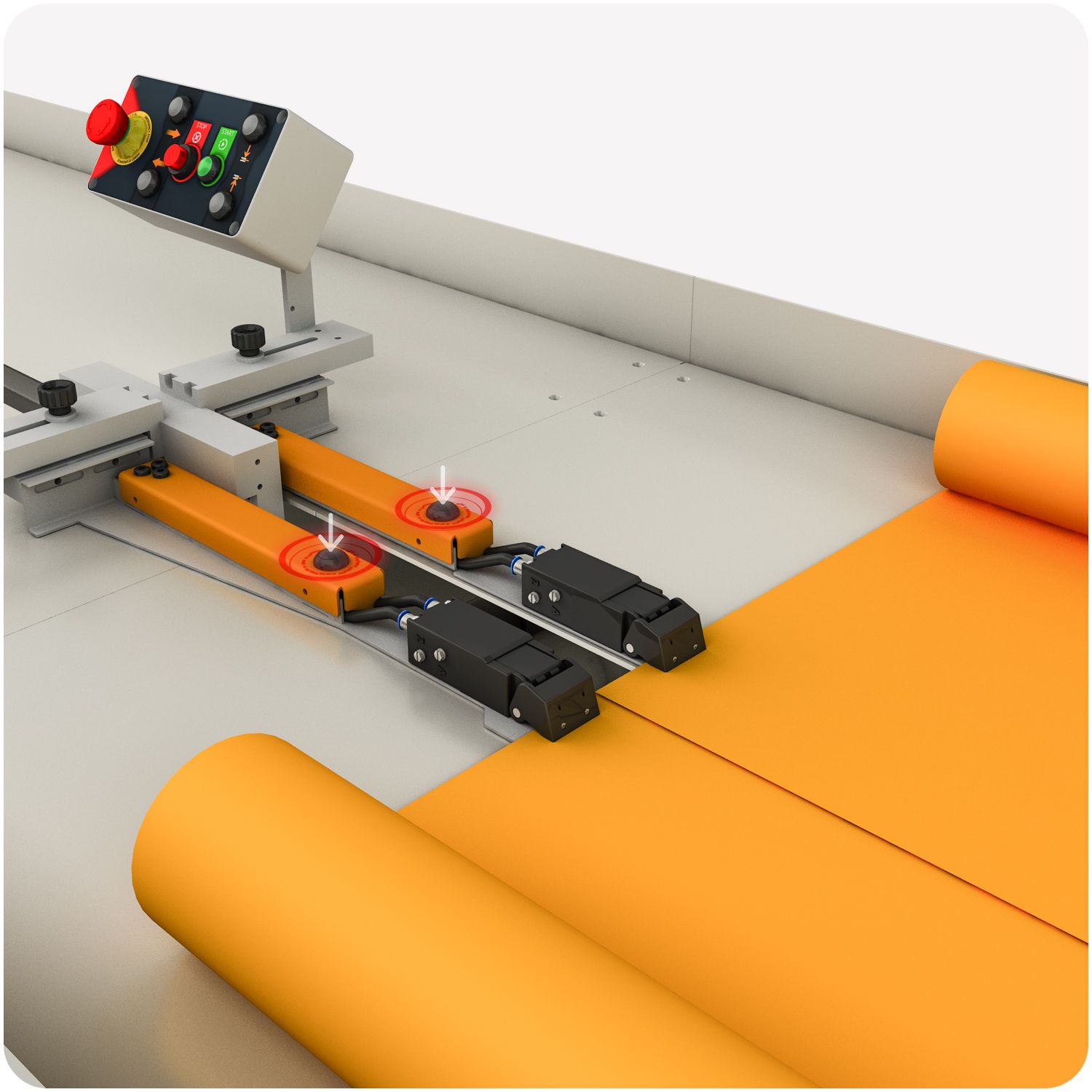 OPTIMALLY ACCESSIBLE CONTROLS
The position and function of machine controls are optimized for operator ergonomics.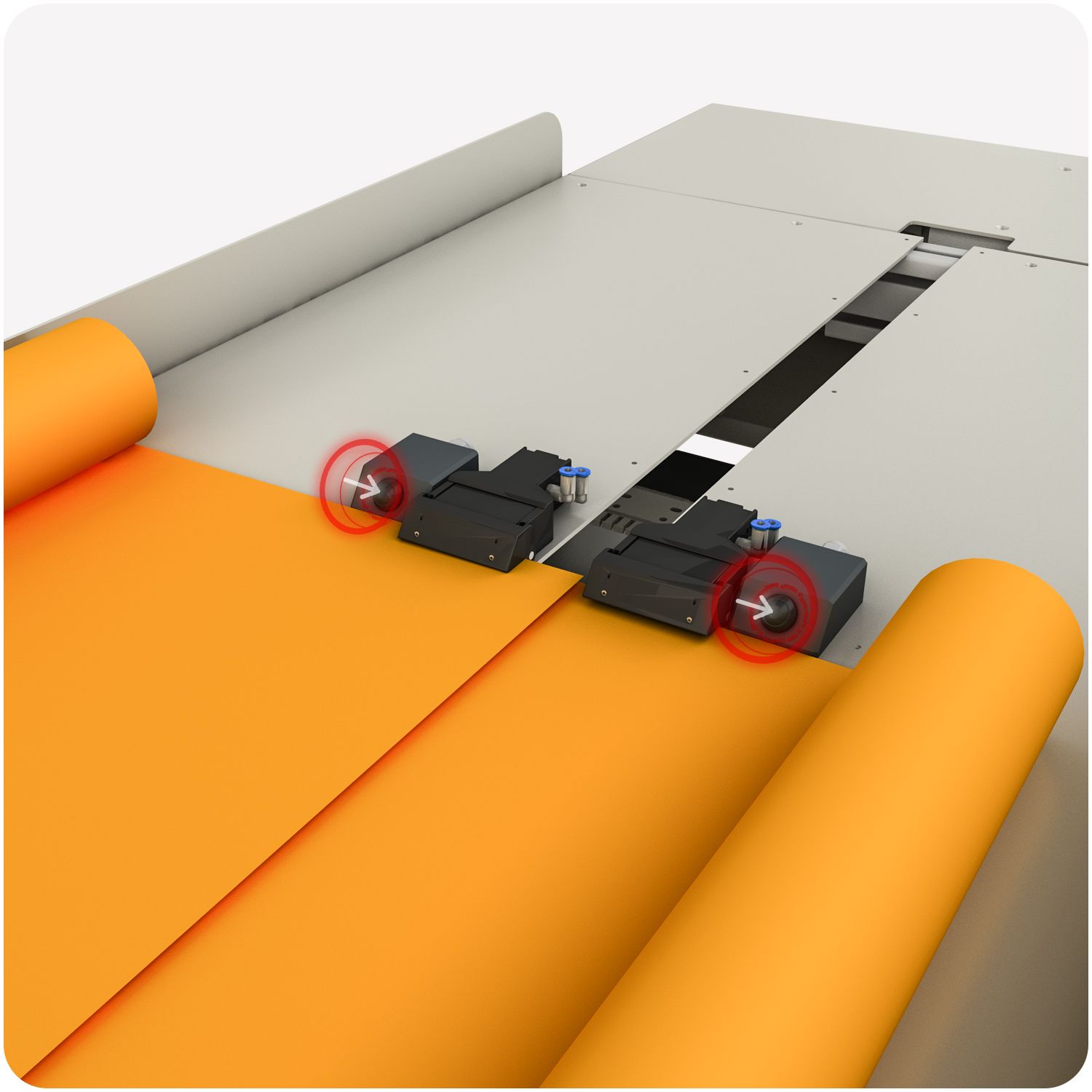 OPERATIONS
Standard (Hem left / Overlap / Hem right)

further processing such as sewing on ZIPs or reinforcing strips is also possible by using special guiding devices.

VARIANTS
The Sewsy 4.0 is configurable in different versions.
4.0 - Workflow

If the ScreenCut / AcrylCut cutting machine is used in combintation with the Material-Handling-System MHS, the panels are delivered to the machine wound on the short side in a MHS trolley. For processing these panels, the Sewsy is equipped with an additional side table.

Rewinder Inside

The Sewsy can be equipped with a rewinding device on the sewing head side. 

Rewinder Outside

The Sewsy can be equipped with a rewinding device opposite the sewing head side.

Basic

The basic version does not have a rewinding device.
TECHNICAL DATA
The data may vary depending on the version.




Operating lengths

| | |
| --- | --- |
|  Operating length: |  Machine length (ML): |
|  5.000mm | 6.420mm  |
|  6.000mm | 7.620mm  |
| 7.000mm | 8.820mm |
| 8.000mm | 10.020mm |
| 9.000mm | 11.220mm |
| 10.000mm | 12.420mm |

Technical data

Sewing head: Dürkopp Adler 867
Standard needle distance: 16mm
Stitch length: 5,5mm
Working speed: average app. 14m/min (depending on type of sewing thread and material)
Sewing speed: infinitely variable from 100 rpm to 3,000 rpm with constant stitch length

Fabrics

Suitable for processing typical textiles for exterior sun protection such as: Acrylic and polyester fabrics

Dimension and weight

Height: 1.694mm (working height 900mm)
Length: variable (ML)
Depth: 959mm

Weight: 650kg to 1.060kg (depending on length and equipment)

Connection

Electrical power: 400V / 50Hz, 3 phases, 16A
Pneumatics: Ø 8mm, stable 8bar, dry, oil-free (class 0), 50l/min
Network: Ethernet (100/1000 Mbit)